Home

Chasing Matisse: The Book

Chasing Matisse Preview:
Cover and Prologue

Buy The Book

Book Signing Schedule

News & Reviews

James Morgan's Bio

Beth Arnold's Bio

Book's Press Release

Leaving Home

Introduction to the Journey

Travel Itinerary

Beth's Travel Diary

The Sketchpad

Photo Gallery

Travel Notes and
Recommendations for France, Corsica and Morocco

Chasing Matisse Newsletter

Contact Us



View All Diary Entries Here
March 31, 2005
A Life in Paris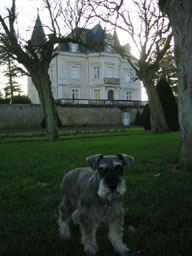 This column is dedicated to Snapp Morgan--handsome and smart dog about town in Little Rock, Arkansas, and Paris, France. He was the dearest of dogs, true friend and family member. I know your grandmother met you in Heaven with a bone, and you are flying high.

We spent 13 months on the Mediterranean Coast with the Pyrenees Mountains behind us in the village of Collioure. I'd imagined us living in a fishing village, and that's just what Collioure had been until tourism supplied its livelihood. We were fortunate enough to find a small loft in a village house that was freshly renovated. Everything in it was spanking new except the thick wooden beams that sliced across the ceiling of our living room. As the ceiling dropped to the sides of the house, the beams were head-banging height, and at times, the top of Jim's head was bloody from all the knocks he'd gotten from forgetting to duck. He just didn't learn.

French doors led to a petite balcony from which we had a spectacular view of voluptuous vineyards, a grand chateau, and old fort. Not bad, as M. Malric of our favorite hotel in Paris, the Hôtel St. Germain, would say. Jim wrote Chasing Matisse. I fought with Dell over my non-working computer, listened to French lessons on CD, read French history along with other books that had been stacked up for years, began exploring this richly rewarding countryside, and grieved the loss of my mother. In summer, we walked five minutes to the beach and swam in the turquoise sea. In winter, we took our dear dog, Snapp, on long walks up and down the tiny rues. We met new friends, shopped in the outdoor markets, and threw gay dinner parties.

Then our 67 year-old land-lord decided he would like his latest girlfriend to inhabit our garret loft instead of us. Even in the spirit of his sowing his latish oats, I couldn't imagine why he'd prefer a romantic arrangement to our good company and the enticing aromas of my cookery drifting down his stairwell. But he did and kicked us out. (On a gossipy note: The girlfriend has come and gone since we left though I haven't yet heard if there is a replacement.) Nevertheless, we found a beautiful apartment in the 2nd Arrondissement of Paris, a block from the Place des Victoires. We packed our possessions—our computers, books and files, Moroccan rugs and Haitian tin art, our Indian spreads, leather club chair and antique tables that I'd hunted and gathered while we lived there. We said tearful goodbyes to our new friends, put Snapp in the truck, and left.

It was revolting that we'd acquired so much stuff to make our first French apartment functional, comfortable, and reflective of us that we had to rent a truck to move. Here we go again! Is this the way we are and cannot change? I know a few things about myself. I require order where I live, and I must have beauty surrounding me and so does Jim. A life without beauty is empty, boring, dull, and well, beautyless. I wasn't cut out to live a plain life in any sense. It would break my spirit and render me null and void.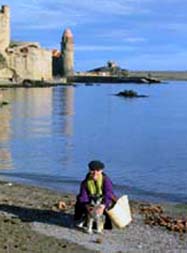 It has been nine months since we moved to Paris. Our new apartment is small though lovely—classically Parisian with a Moroccan twist—and dates from 1620. (Napolean Bonaparte once lived in our building.) The colors are spectacular with the green of Mimosa leaves in spring and a luscious luminous blue accented with jewel aubergines and rubies. It is chic and looks and feels like us with two exceptions. We have a closet of a kitchen which shoots my usual entertaining style to hell (though we've learned to manage), and we wish we had another room or two. Americans are used to space. As throughout our trip in France, I adjusted more easily than Jim. Change is harder on him than me. We gladly gave up our car and walk or take the Metro, a taxi occasionally.

Snapp instantly became a popular dog about town. We couldn't take him for a walk without being stopped on the street by numerous admirers. The French love dogs, and Snapp had such a gentlemanly presence. People recognized his grand spirit and soigné at once. One summer day two Japanese women asked me to take their picture with him. I use the past tense, because almost six months ago Snapp became very ill. He was 13 years-old, and his kidneys were failing. We had to put him to sleep a month ago which broke our hearts. We lost our dear boy, pal, and treasured member of our family. But Blair and Bret were here for Christmas, and we rented a car and drove to Alsace for a few days. Mr. Snappman had one last adventure in France with his family!

It is good we left Collioure. As glowing as it is, Collioure is a very small town. I loved it and the region—the Mediterranean and Pyrenees, the vineyards cascading down the hillsides, and the Catalonian people and their dance of sardane. But the town shuts after the season, which in a way makes it more authentic, but there isn't much going on. Frankly, I wanted the heartbeat of Paris and all the cultural opportunities that come with it. I knew I wanted to live here. I'm a city girl at heart, and it's a delight just to step out the door and walk down any street at all. Beauty is around every corner, when you least expect it. People are sitting at sidewalk cafés drinking coffees or glasses of wine. Store windows are artfully arranged, and boulangeries are loaded with cases of croissants and meringues, restaurants are waiting to be tried.

We're in the center of this city of lights, making new friends, attending the opera and listening to jazz. Our neighborhood is divine! It is good to live here. We have started a new life, and I feel at home.

Now Chasing Matisse is finally out, and you can read Jim's lovely rendering of our big adventure, or let's say, his version of our story! Please support your favorite bookstore and pick up a copy or use the link to Amazon.

I hope our journey will inspire you to chase your own dreams whatever they are! We will be chasing ours.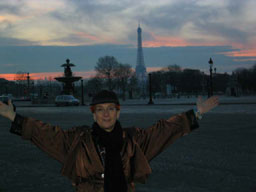 posted by Beth on March 31, 2005 | View All Diary Entries
---

View All Diary Entries Here