View All Diary Entries Here
February 18, 2005
(Note: I pick up once again-this time to finish our trip. I'll fill you in later on where we are now and a brief description of our lives in-between.)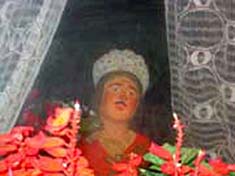 We left our luxurious little nest at St. Tropez's Hotel Le Yaca as the procession for the saint the town was named for wove through the village with its fife and drummers playing. I caught a glimpse of the ritualistic military corps in costume and saluted. I still wished for an ancient bust of their patron saint and hero, Saint Tropez, and one of these days I'll find it. I know I'm meant to have one.
Jim and I were having our leaving spat that couples have when they're trying to get out of town and go anywhere. This time it took the form of whether he should get in touch with a friend of a friend of his who happened to live in the area. He didn't want to do it which was often true in a larger sense. He knows that if I think something is important I'll do it, while he's busy preening as Mr. I-Don't-Care and won't. Making contacts in a foreign country where we didn't know many people-expanding our circle-was something I considered worthy.
I admire this typically male behavior in some regards. It's pleasing as well as efficient to do only what One wants, is interested in, and of the import to merit One's attention. But usually for us females, inevitably me, this leads to being knee-deep in One's manure because it's in my/our best interest for whatever it is to get done. Another appropriate appellation for wives could be "Pack Mules." Hee-haw, hee-haw!
We motored through the traffic and through the hills and vineyards to make our way to Aix-en-Provence. This wasn't technically on our Matisse itinerary, but Henri Matisse greatly admired the painter Cézanne and had bought one of his paintings when he could ill afford it and kept it for many years as a touchstone of sorts, a prized possession that he wouldn't sell no matter what.
We'd been in Aix only one time before and had visited Cézanne's studio. I'm sure I've written about this before, but how can I help myself? Visiting an artist's studio is a great pleasure, a peep into his or her vision of art and life, a virtual lesson I highly recommend. I find that the creative energy lingers, and the choice of art, objects, and furnishings the artist surrounds him or herself with is a parade of his or her dreams. The inner voice has found an outer reality in a concrete object, a particular hue or design that calls to his or her sense of beauty, form, shape, texture, or color-some example of personal delight-that I can admire, ponder, and react against just as his or her art. Cézanne's studio was no exception.
The one day we were previously in Aix it was as hot as Hades as my mother would say. I have learned from too many scorchers that even lovely locales such as Aix can lose their charms when I'm roasting. All I want to search for is a mother of an air-conditioner which may be in our car while it's speeding away. This time Aix was warm but not hot as hell, and we discovered a beautiful town populated with shady plane trees and bubbling fountains suitable for water nymphs. It harbored a core of handsome architecture and hidden squares of graceful repose. The air was young and old, refined with a vapor of intellectual vibrancy.
This also aptly described our chosen hotel, the Grand Hôtel Négre Coste, along with an additional characterization of shabby chic. We loved it. Its location on Aix's main and delicious street, the Cours Mirabeau, was perfect, the staff friendly and genuinely helpful. I'd read that jazz musicians stay here when they're in town. It's that kind of place.
For me, another draw of Aix was the late writer, M.F.K. Fisher. I love Ms. Fisher's work, her writings of food and her life in France. As a single mother in Aix, she'd pick up her daughters after school and take them to Les Deux Garçons for a treat of chantilly while she indulged herself with a whisky. Now that's a woman to admire! I'd like to follow Fisher's trail around France-stay in her chosen hotels, dine in her restaurants, and prepare her recipes. She once wrote about a hotel in Dijon that had wine on tap in all of the bathrooms. It can't exist now, but I'd like to find out. Can you imagine how handy? Of course, we walked down the boulevard to Les Deux Garçons. It's not the same as during her time there, but I drank a whisky in her honor. If I make my trip, I'll do the same wherever I go. To M.F.K. Fisher, salut!
I found a good stationery store in Aix which pleased me since I couldn't find one at all in St. Tropez. As much as I liked St. Tropez, I found it terribly odd and rather frightening that one could buy a rasher of bikinis but no pen cartridges or diaries. One could write while lying on the beach. Sun-worshipping, seeing-and-being-seen and writing notes don't have to be exclusive activities.
Our friend at the hotel, Ricardo, recommended Les Agapes for dinner. When we found it tucked in its little rue, we were attracted by its ambience, rusticity and intimacy. A corner fireplace was used to grill the meat. What is it about watching your dinner being cooked that makes one's mouth water? Are the aromas more intense? Is it the act itself, the cozy feeling that you're in the kitchen with the chef or in someone's home? People love to gather in a kitchen. It's the center of action, the heart of the house where a family's love comes out in a meal to be shared. This was the feeling of Les Agapes.
I savored a delicious brandade for a first course, lamb for the next, while Jim ordered salmon with avocado to begin and duck to end. It was a wonderful meal, and Aix-en-Provence was another place where I'd like to return maybe next time in the cool Fall or Winter. And one of these days, I will. But this was the end of my and our time now.
The next day we packed up our car for the final time-technically-in our journey of chasing Matisse. It was the end of our following the steps of the life and painting of Henri Matisse, but while we were chasing the master we were also chasing ourselves. What a ride it has been!
____________

I could've gone on and on and will keep moving in new directions, but this time I'll be following myself, my art and life. I have the desire, momentum, and will. Chasing Matisse is a journey that will never stop, and I'm determined to see it through, to create the life that I want. What will be around the next corner? I don't know, but I've become more open and have discovered the capability to stop forcing my issues, to let go and explore new possibilities that present themselves, to feel my way into the future.
Freedom is a word that we all love, but the most cherished freedom of all is to find our own truths, and in that, to live life with the integrity to be ourselves.


posted by Beth on February 18, 2005 | View All Diary Entries
---

View All Diary Entries Here