Home

Chasing Matisse: The Book

Chasing Matisse Preview:
Cover and Prologue

Buy The Book

Book Signing Schedule

News & Reviews

James Morgan's Bio

Beth Arnold's Bio

Book's Press Release

Leaving Home

Introduction to the Journey

Travel Itinerary

Beth's Travel Diary

The Sketchpad

Photo Gallery

Travel Notes and
Recommendations for France, Corsica and Morocco

Chasing Matisse Newsletter

Contact Us



View All Diary Entries Here
July 7, 2004
(Note: Since finishing Morocco, I will pick back up in Vence and our original journey.)





The Vence of Matisse to Signac's St. Tropez



Coming and going, staying and leaving had defined our lives for many months. For me, the leaving carried a bit of sadness in losing a new territory in myself and France that I'd only found. Almost invariably, I wanted to experience more than the sites one had to see, and we didn't have enough hours in the day or were too tired to fully explore, though I torture myself by cramming in as much as I can. I want it all. One of the best ways to really understand a new place is to allow yourself to just be there and soak it up, but the clock ticks my minutes away, and my natural desire is to dig deeper and discover hidden viewpoints which the local people know in their genes and tourists don't have time or the inclination to probe. There must have been at least a town or two which didn't enamor me in some way. If so, I can't remember them. Whether beauty or culture, history or cuisine, something always intrigued me. I wanted to know what gave the ground and its people their shape, the meaning behind the vistas. I researched and read, asked questions of anyone I could, and tried to "get" enough of the landscape and its people to feel it and them. There was much I still didn't know.

Leaving was also the most difficult for Jim, because he hated loading the car with the scads of baggage we were now carrying. It's not that I blamed him, but he grumbled and moaned until he was in a foul mood and took his sweet time getting over it. The leaving of Vence entailed more than our usual departure moodiness. Matisse's house, Villa La Reve, was a raw jewel. More than 50 years after Henri Matisse had lived there, it still held a piece of his creative force, and we hadn't yet mined all its secrets. As I have said previously, we could've happily stayed for months. Joelle, Villa La Reve's manager, had been open, kind, and generous giving us the run of the place. Returning to the road was parting with our Matisse Mecca, and once again it felt like leaving home, a home we no longer had.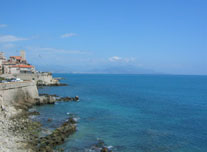 Yet along with our moping was anticipation of the next adventure, and on this morning when we drove away from Vence, we were headed to Antibes. When we arrived, the sea was sparkling blue and the quaint market was in the process of folding up. One robust man sang a French ballad while he packed the last of his inventory. Our lunch was a sandwich, and our dessert was a tour of the Picasso Musée. I admired M. Picasso more than I ever had after seeing his body of work here. The museum is a wonderful tribute to his genius. He may have been mean, especially to women, but he seems to have been more generous with his endowments than Matisse. Is leaving a tremendous legacy to your own museum a sign of more or less ego? Did Matisse sell his away and not have much left? Did he need the money?

From there, we moved on to Vallauris for a look at the town and its ceramic tradition Picasso revived by taking a shine to working with clay and expressing himself in pottery. Shops lined the main avenue, and since dishes are a penchant of mine, I had to prevent myself from buying a wonderful brown, black, and turquoise plate of a woman classical yet original. It was not typical in any sense but the work of an artisan whose name I don't remember but whose skill I admired. If I returned today, I would purchase it. And Picasso? A shop called Madoura has the rights to sell copies of his pieces if you are burdened with a leaning such as mine.

As the film festival was in progress, we chose to skip Cannes. The irony of that amused me. For many years, my heart would've exploded to be able to attend it. It's not that I wouldn't still adore being in the thick of it, but an invitation inexplicably hadn't turned up. Time was short, and there was much on our agenda. We drove on to St. Tropez. Many people talk about the snootiness of this former fishing village, but almost all the plush hotels had wanted to welcome us with a discount. Their interest and appreciation of our chase of Matisse was a symbol of more than superficial concern and heartened us in many ways. More were interested here than anywhere else we'd been on our extensive itinerary.

We checked into the merely divine Hotel Le Yaca, and our bags were delivered to our charming and luxurious room with its door into the oasis of garden, pool, and restaurant. Le Yaca is a salve for the weary body and soul, and we rested on the beautifully-sheeted bed before strolling down to the harbor to gawk at massive yachts with staff while imbibing a drink at the Café de Paris. Jeem and Beth Joade of the stuffed Peugeot station wagon gaped at this decadent scene that we might have confused with an episode of Robin Leach's "Lifestyles of the Rich and Famous" except whomever of the fabulously riche owned these vessels was no one we recognized, and Mr. Leach was nowhere in sight. We thought some of the celebrity festival-goers might have made this foray down the coast, but no star-sightings awaited us.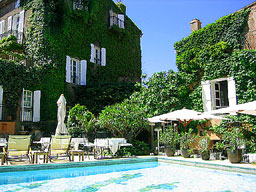 The next morning we sat in the garden relishing our morning coffee by the pool. My thoughts drifted back and forth from France to the U.S. Since my mother's death and our return from Arkansas, bitter notes that erupted from the aftermath had been arriving almost daily, creating waves of worry and stress that rolled through my grief. In addition, Mother's death had been the final blow in a year of changes that had overwhelmed our daughter, Bret, and she had made a pivotal decision to drop out of school for the next year. As I sat in the garden, I knew our adventure was borne in many ways which we could never have foreseen but were forced to cope with, and I was trying to find my center and be true to the issues that spanned two continents of being a good mother, losing my own, and forging ahead in this incredible journey that had been my and our dream. It was a constant torturous rub, but in the complex workings of our minds, distraction can be a useful tool. St. Tropez was full of them, and they provided a respite. The high season hadn't started, and the village wasn't clogged with visitors. If haughtiness is a common denominator of that period, we missed it.

We were astonished by the Musée de l'Annonciade. Paul Signac had been the artist-in-residence in St. Tropez, and his family still has a home there. His paintings anchored the collection that also included wonderful paintings by Matisse, Vuillard, Bonnard, Braque, Dufy, Van Dongen, and others. The museum was small, manageable, and showed one of the best collections we'd seen anywhere in France.

For eight euros each, we took a tourist boat ride around St. Tropez's bay, and it was worth every centime in pure pleasure to be cruising with the other sailboats and yachts on the sapphire Mediterranean on such a beautiful day. We glimpsed multi-million dollar villas, the filming of a French soap opera, the less dramatic house of actress Bridgette Bardot, and a long black line of villagers in their funerary march down the hillside to the seaside cemetery.

Later that evening, we happened upon a milling crowd including men with fifes and drums. A local restaurant owner explained it was the Bravades, the procession that commemorates the anniversary of the running aground of the boat carrying Saint Tropez's decapitated head and body. The Town Captain and his officers led the procession. Actually, this turned out to be the dress rehearsal, but it was such a festive and joyous occasion that Jim and I joined in with the boisterous crowd. Jim lightly ran along the stable of yachts, and we marched around the whole village before finding the Cohiba Café for tasty tapas of chicken brochettes, squid, aubergine, cheese, grilled veggies, and drinks. It was our first French procession, and we felt part of the energy and spirit. We felt like we belonged in some odd way.

That would end the next day when we would be leaving.again. The splendid Le Yaca with its terrific staff would hopefully await us for another visit when we could extend our stay. The recent history of St. Tropez with its summer season of beautiful people is famous, but I want to march in another Bravades procession and discover more of the St. Tropez that existed long before they arrived.

posted by Beth on July 7, 2004 | View All Diary Entries
---

View All Diary Entries Here