Home

Chasing Matisse: The Book

Chasing Matisse Preview:
Cover and Prologue

Buy The Book

Book Signing Schedule

News & Reviews

James Morgan's Bio

Beth Arnold's Bio

Book's Press Release

Leaving Home

Introduction to the Journey

Travel Itinerary

Beth's Travel Diary

The Sketchpad

Photo Gallery

Travel Notes and
Recommendations for France, Corsica and Morocco

Chasing Matisse Newsletter

Contact Us



View All Diary Entries Here
June 29, 2004
The Light of Morocco



Clear light burst open the sky, illuminating our clues of Henri Matisse that were hidden in the muddle of Tangier. We stood on the periphery of the Grand Socco looking up and down for the way to the Grand Hotel Villa de France where the Matisses had stayed and Henri had glimpsed scenes that matched his artistic vision. Jim was armed with a book of the paintings, and I carried my Morocco guide and map. We looked every bit the awkward tourists, but most Moroccans don't know much if anything about the artist whose lush paintings have etched the colors and forms of their country in the minds of art-lovers throughout the world. Not a swarm but a couple of faux or real guides approached us though we convincingly declined. I don't engage in conversation with hustlers unless it feels safe and right, the right time and place. Most importantly, we wanted to be on our own.

We were looking for the rue d'Angleterre and finally figured out it was past the lovely English church of St. Andrews with its wild and unruly secret garden of a cemetery where journalist Walter Harris, members of the Royal Canadian Air Force, and other English-speaking expatriates who infused their lives with this enigmatic city are buried in its earth.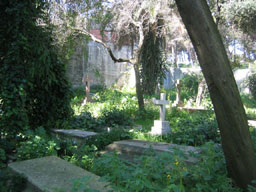 What allure or circumstance of life had drawn and kept them here? I didn't recognize their names or know their stories, but the mysterious unkempt graves were a summons to consider them. Time has taken its toll, the world here has changed. This yard must once have been pristine and probably cared for by some of its now eternal residents. The congregation is surely much diminished which implies a lack of funds for upkeep. If there were families of the dead, many of them have likely moved on, and friends are in the ground elsewhere. The earth is taking back her own. Nature has survived.

We wandered through the overrun and sun-dappled garden before walking up the street to the Matisses' hotel which must have been quite grand but now is shut and surrounded by its own jungle of neglect. A completely-covered Muslim woman passed us as Jim looked at old pictures of the lodging and of the scenes his hero painted and finally pointed out the room where Monsieur and Madame must have stayed. It is always a thrill to make such discoveries, but for Jim it's even more satisfying to find the angle that intrigued Henri enough to color a canvas with his mental picture of it.

Our great goal for the day was in the Kasbah, and miraculously, we found our way the first time we climbed the hill. We walked through the gate of Bab el-Assa, and Jim realized the exact perspective that was subject of the huge Matisse poster we had hanging at our apartment in Collioure. He sketched while I looked around. The Kasbah. Again, I found it the place where I wanted to spend my time. It is the highest point of the city with white and blue walls and the sapphire sea beyond. Mansions framed one side of the wide courtyard with terraces and views beyond the ramparts. If I were a resident, I would want this address.

We diligently and sometimes luckily found all of Matisse's vistas. A couple of times we didn't notice the eye-scapes walking in one direction on the narrow cobbled streets, but when we made a foray into the cluster of buildings/homes/shops and returned the same way, we had moments of Aha, we've found the right scene! A friendly Belgian couple pointed out what they thought was the bar where the Rolling Stones used to hang out. I wasn't so sure, but okay, we went in and sat down.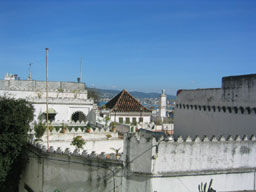 I still think it a usurper, but from there, we gazed onto the rooftop terrace of the villa Barbara Hutton owned for many years. The outdoor space and garden were inviting though needed a paint job for fluff up. I could imagine the swell parties and glamorous guest lists Ms. Hutton must have sublimely engineered. Unlike M. Matisse, her name is well known here. She was a friend to Morocco's people (and animals) and endowed many good works. We also checked out her address from the street. Not bad, as the Hotel Saint Germain's M. Malric would say.

The only potentially smarmy experience we had was with a fairly neat and well-dressed guy who told us he'd take us to Paul Bowles' house. I was suspicious, but we were on a relatively spacious and clean street, so we went along. The street's name was accurate, but when he started up a tight staircase, we said no thanks and left. Did he have good intentions? I don't know, but my radar was up, and there was no way I would've followed him at that point, especially since the "Rolling Stones hangout" owner had told the man we were his friends, and I thought his real message was to leave us alone.

When we descended from this heavenly summit of Matisse Land, it was market day and the medina was filled with Riffian peasant women with their red and white skirts and broad straw hats. Their look and style is totally different than the women who are covered from head to toe in a loose caftan or jellaba, scarf, and veil. Due to Tangier's proximity to Spain and an area that is still Spanish Morocco, many people greeted each other with "ola" rather than "bonjour."

It was a terribly satisfying Matisse day, and we rewarded ourselves with cocktails in El Minzah's merely perfect bar before our last piquant dinner in the restaurant. Mission accomplished. We packed our bags.



*



The next morning we reunited with Aziz who drove us back to Casablanca along the miles and miles of undeveloped coastline. This would be an unbelievable sight in the U.S. or France. It is good to know that such an unspoiled seashore still exists though I'm sure it wouldn't if Morocco wasn't so poor.

We rested for a few hours at the Royal D'Anfa Hotel before meeting the incredible organizer of our trip, Adel from Olive Branch Tours, for a wrap-up about our terrific experience and to say goodbye. I would call Olive Branch and Adel for anything in Morocco. They are pros at their best.

Aziz picked us up and drove us to his house for a home-cooked Moroccan dinner. It was a generous invitation we had been delighted to accept. When we arrived, his mother and two sisters kindly and openly welcomed us in their home. His children were darling, and they all treated us as honored guests or friends they'd known for years. His sister had graciously prepared our meal. What a feast! Course after course of salads and chicken with olives and dishes I can't remember the names of but devoured with glee were served, and for dessert, we had oranges as big as grapefruits, juicy and sweet. As we were putting on our coats to leave, the family offered us beautiful presents. Jim received a white hat that Aziz's father had brought home from his pilgrimage trip to Mecca, and I was given a sweet cedar box with a traditional silver necklace inside.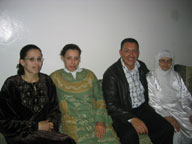 Aziz was the only one of his family who spoke English, and we don't speak Arabic or Berber, so our communication with each other was through body language, sign language, our sensations of tasting and touching, seeing, hearing, and smelling, and the intimate messages that somehow one just feels or knows in his heart or gut. After we all hugged and kissed, Aziz drove us to the airport where we said our last goodbyes.

In the blackness of night, a clear light illuminated our way back home.


posted by Beth on June 29, 2004 | View All Diary Entries
---

View All Diary Entries Here