Home

Chasing Matisse: The Book

Chasing Matisse Preview:
Cover and Prologue

Buy The Book

Book Signing Schedule

News & Reviews

James Morgan's Bio

Beth Arnold's Bio

Book's Press Release

Leaving Home

Introduction to the Journey

Travel Itinerary

Beth's Travel Diary

The Sketchpad

Photo Gallery

Travel Notes and
Recommendations for France, Corsica and Morocco

Chasing Matisse Newsletter

Contact Us



View All Diary Entries Here
June 3, 2004
The Port of Tangier



Tangier conjures visions of mystery and intrigue, spies having secret signals and hushed conversations, men slinking through the night like worn but agile tomcats, and old gay men coming from the West to find solace and pleasure in their select young parallels. It is a city of and for men. I felt this nowhere else in Morocco, but these cafés told the tale. They are full of men huddled together in conversation, sipping their hot and sugary mint-infused tea, dragging on smokes, staring into the streets, their lives and worlds. What do they see? So many need work. Unlike in France, women are almost completely nonexistent in Tangier café society. The only female trace was a random European who must have been either very brave or foolish to have made herself a place. I'm a fearless traveler, but either I didn't have the courage or I had the good sense to skip this experience. I didn't feel unsafe, but the scene was a little creepy and didn't suit me. (If you want to debate the point that the whole of Morocco has this culture, I will agree theoretically, but Tangier is vastly different. It doesn't slide neatly into a Moroccan pigeon-hole.)

We had been told that most tourists don't go to Tangier. The life and cultural ambience of the city don't justify the time spent here, but this was the Moroccan city where Monsieur and Madame Matisse had lighted, and one of Henri's most famous series of paintings emanated from this period. Tangier was our ultimate Moroccan goal. I liked Tangier, then didn't, but swung back round with one important caveat. Tangier isn't easy. It is murky, intense, hard to read, and takes some time to navigate inwardly, at least. For us, the effort was satisfying. I was glad we went.

To understand Tangier, you have to know a little of its history. The Greeks and then Romans with their Celtic cavalry settled here before the Arabs arrived to war with the indigenous Berber tribes. Many other invaders took their turns as well. Tangier reminds me of Havana in that its location on the sea made it a prime target for all the aspiring nations who wanted to control its well-situated port. Most of Morocco became a French Protectorate in 1912, and in 1923, the resolution among the competitors for Tangier was to make it an "international zone" that was run by diplomatic agents of Britain, Spain, France, Portugal, Holland, Italy, Belgium, Sweden, and the U.S. Tangier was wide open for bankers, libertines, exiles and refugees, artists and writers, and others for whom the "anything goes" posture of licit and illicit dealings packed a punch. Spy stories abound, and if Graham Greene didn't set a story in Tangier, he should have. The fun ended in 1956 shortly after the French handed Morocco back to its people and rulers, but there is still a leftover atmosphere of shady maneuvering.

The other important point in understanding Tangier is that it's the entrance for Europeans coming into Africa, a short ferry ride from Spain, as it is the gateway for Africans who are headed to Europe. A number of people travel back and forth every day, so there is constant traffic, transition, and opportunities for all that crossing these borders implies. The city is also known for its hustlers, and we got advice from the hotel staff, our driver Aziz, and guide Omar to be careful. We had no problems and looked every part the rube tourists searching out Matisse, though we were alert and on the defensive.



*



The morning after we arrived, Omar led us through the souks of bright vegetables and luscious fruits, pale chickens hanging by their feet, mounds of red meats, crusty golden breads, multi-flavored olives, and more.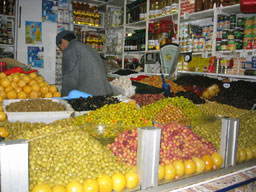 Women from the Rif wearing their red-and-white-striped cloth skirts and embroidered wide-brimmed hats had come to sell their homemade cheeses. Aziz advised the best is goat, but theirs was a mixture of cow and sheep's milk. We passed by the historic American Legation where during World War II much of the Allied landings into North Africa were planned and later stopped at the Hotel Continental for a coffee. The old hotel gleams from the outside but has seen better days once you step in. It has been the home for many film crews shooting exotic movies. Photos of John Malkovich and Francis Ford Coppola hung in the antique shop next door.

Omar had been guiding us for several jam-packed days, but he was hopping a bus back to Fez to host a family wedding party. We were sad to see him go but were looking forward to bumbling along by ourselves again. But before Aziz would cut us loose, he drove us to a resort outside of Tangier where mansions abound, the coast is expansive with rolling sea, and the Grotto of Hercules is hidden underneath the baked earth. Yes, Hercules lived here, and he is heralded by a festive "See Rock Mountain" feel in the square above his seaside cave home. Sea shells are attractively embedded in the stucco walls with turquoise buildings, and a giant mural of the brawny hero is painted on a rock wall. Camels are saddled and ready to ride. A small boy in costume with donkey in tow asked if we'd like to take a picture. Jim said no. I said yes. We paid him a small price and snapped. Traditionally dressed Muslim women gossiped on a terrace with the white-capped waves crashing below them.


As we walked down into the cave, the guide told us the story of Hercules and later the Berbers who had lived there.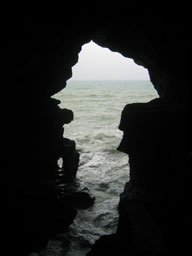 He pointed ahead where the rock walls were splayed open in the shape of the African continent with the ocean lapping just beyond the massive crack. I was startled. A couple of months before-on Jim's birthday-I'd dreamed of this place not knowing what or where it was. In my dream, Jim and I were at an enormous cave with a vast body of water at the foot of the opening. In my dream, it was also a resort. Our daughter, Bret, had come across the water in an inflatable boat by herself, and I was completely impressed by this. She had come to tell us that no one could find my grandmother (who died last August). Bret and I would cross the sea again, but this time we would use a more substantial craft that I would drive. The next morning I recorded the dream, because I thought it so interesting, something I needed to contemplate. Finding it in Morocco as an ancient home for myths and legends and people who lived and breathed was surreal. Was it some sort of premonition? Why? What did it mean?

I told Aziz my weird tale as we drove back to Tangier. He found a quay-side bistro where we inhaled a lunch of crispy fried squid, whole whiting, grilled shrimp, and rice. It was mouth-wateringly delicious and authentic-not a tourist spot-and some of the best fish we'd eaten anywhere. We wished Aziz a happy time off and walked to a well-known bookstore which supposedly had a good selection of English volumes. The only one we found was a Moroccan cookbook with recipes of many of the richly-spiced dishes we'd been savoring. I bought it with plans for a Moroccan feast of a dinner party. But the store itself was dark and somewhat foreboding, and I didn't get the rush of excitement which the houses of published stories usually fill me, where a myriad of writers' words, visions, and dreams provide endless possibilities to transcend and transform on the never-ending search.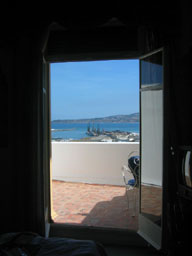 Later that evening, we sipped icy bourbon on our whitewashed terrace with its glorious view of the port of Tangier and blue sea beyond. On sunny days one can see all the way to Spain and Gibraltar but not this day for us. Perhaps the light will be here tomorrow.








posted by Beth on June 3, 2004 | View All Diary Entries
---

View All Diary Entries Here