Home

Chasing Matisse: The Book

Chasing Matisse Preview:
Cover and Prologue

Buy The Book

Book Signing Schedule

News & Reviews

James Morgan's Bio

Beth Arnold's Bio

Book's Press Release

Leaving Home

Introduction to the Journey

Travel Itinerary

Beth's Travel Diary

The Sketchpad

Photo Gallery

Travel Notes and
Recommendations for France, Corsica and Morocco

Chasing Matisse Newsletter

Contact Us



View All Diary Entries Here
April 14, 2004
Silvery Olive and Verdant Green



As we drove through the Moroccan countryside, we saw many sheep with their herders, newborn lambs, donkeys with riders or carrying loads of water bottles, packages, God knows what. We stopped for cows to cross the road. Sometimes their front legs were tied together, so they wouldn't wander too far away. I felt sorry for the hobbled animals. There were no fences anywhere. The land was covered in verdant green grass that looked woven as the carpets with neon orange flowers their embellishment. Omar said that in two weeks time red poppies, blooms of blue and white would add to the vibrant landscape that sailed across our vision. Vineyards spread over plains, and men and women hoed the vines with their own steam. The plethora of satellite dishes that topped every house and building no matter how primitive seemed out of place.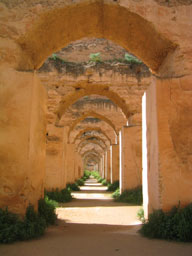 We arrived in Meknes to see the stables of Moulay Ismail, the second sultan of the Alawite dynasty that rules Morocco today. The stables housed 12,000 fine Arabian horses that were cared for by 6,000 men. He had planned to build his own Versailles like his contemporary Louis XIV of France though it was never finished. The horses got their chateau which was vast and impressive. Eighteen thousand people lived inside the cool, thick walls where water was drawn by wooden wheels with leather pockets to provide the thirsty steeds.

Moulay Ismail was supposed to have rocked the country with his cruelty. Obviously a man of great appetites, he had hundreds of wives, reportedly 800 children, the descendants of which now guard his tomb. He may have provided for the originals but there must be too many to count in these later generations that run the gamut of life in Morocco. We have heard that another man of celebrated appetites, Mick Jagger, has a house in Meknes. I prefer his brand of rock.


As we left the city, we saw a man tilling a hillside with a mule and old-fashioned plow, a sign of an agrarian economy that no longer exists in our own country. The rolling hills were covered in groves of olive trees. In some, great sheets were spread on the ground beneath them while men hit the branches with sticks to shake off their crop and then bagged them up. Women and children relaxed on pallets underneath the olive's shade. Two men sat and poured tea while their little lambs slept.

The countryside spread in front of us as a patchwork of rich dirt, lush fields, silvery olive trees. Omar says that if you cut an olive branch and give it plenty of water, it will grow. It is called the "tree of light," because the oil was burned in lamps. The Moroccan olives are rich and ripe, some of the best we've had anywhere. Somehow I didn't expect this fertile terrain here.

The temperature was hot (imagine the summer), when we arrived in Volubilis, which was yet another colony of the Roman Empire. I will say again, those Romans! Of course, I studied them in history like everyone else, but that was for school when I was more interested in getting a good grade than truly understanding what their record meant. But as I've traveled more and more, and I've seen their settlements throughout the world, I've gotten a sense of the vast Roman Empire which almost seems unbelievable in its scope and ambition much less the administrative difficulty of keeping these strung out colonies in line. No wonder there was constant war.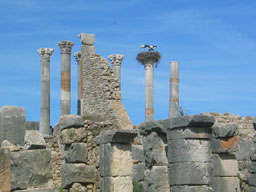 Volubilis is a stunning city built in the 2nd and 3rd centuries. The outlines of the houses and shops, the triumphal arch, baths, basilica, brothel, and capitol remain, monuments of this culture, but the mosaics are the thing, exquisite, detailed images and ancient design that is timeless beauty. Venus, Hercules, and Orpheus all had an address here. Not bad, as M. Malric would say. Those Romans knew how to live and make things lovely, to pick a position that held nature in its finest view as do the current residents who happen to be storks. No doubt these statuesque birds have good taste since they have made their own massive nests on ancient columns and command the scene around them.

What could we do after that but have a delicious lunch back in Meknes? It was another good but long day, and we decided to luxuriously order room service in the Palais Jamais for dinner. It was presented quite elegantly and sooo good. After we finished, we turned on the TV to see Dustin Hoffman on some Italian show that must've been honoring him and his wife about whom he spoke quite eloquently and then sang to her. Let me tell you. He does not have a voice. I cannot adequately describe the yowling that dissonantly poured forth. It must have been a moment of romantic madness that gripped him to sing "their" song publicly.



*



The next day we drove to Tangier. I'd noticed women picking some green leafy plant along the road everywhere we went.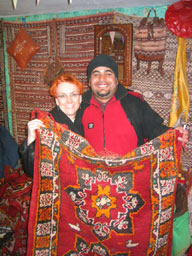 Omar said it was called bakkoua, and it makes a good salad. They carried it in bundles on their backs like their babies. We were deep in the countryside, and I think for the first time, I saw women riding donkeys. None were dressed in Western clothes. They all wore a piece of cloth-usually red and white striped-but sometimes stripes of yellow, green and blue over some kind of pants. We stopped in the Rif Mountains at a village called Chaouen for lunch of salad and brochettes. Chaouen is a laid-back town, and we both liked it. We wandered around the medina with no crowds or dark streets. Sunshine poured into them. I wanted to find some of these Riffia skirts and did through a young Moroccan man who spoke great English and is engaged to an American woman from Chicago. His brother is already married to an American who is connected to the diplomatic corps, and they'll soon be going to the States to get ready for a transfer. These guys were cool, and Chaouen was a nice contrast to the big cities with their frenetic pace. It was quiet and easily manageable, the Rif Mountains majestic. Not a typical tourist destination with required agenda which made it a relief.



*



Our first impression of Tangier was big city with big city feel (though that changed). We checked into another incredible hotel, the El Minzah. What a jewel, elegant with a bit of shabby chic. Our room was lovely, terrace with spectacular view to the sea. The bar was piped with red banquettes, clubby wood, and a grand piano. This is a place Humphrey Bogart definitely would've stayed as well as anyone who was anyone coming to Tangier in the last century. It so utterly evoked the authentic and romantic visions in our heads of what a colonial hotel should be we hardly wanted to leave it.

We were in our groove.


posted by Beth on April 14, 2004 | View All Diary Entries
---

View All Diary Entries Here