Home

Chasing Matisse: The Book

Chasing Matisse Preview:
Cover and Prologue

Buy The Book

Book Signing Schedule

News & Reviews

James Morgan's Bio

Beth Arnold's Bio

Book's Press Release

Leaving Home

Introduction to the Journey

Travel Itinerary

Beth's Travel Diary

The Sketchpad

Photo Gallery

Travel Notes and
Recommendations for France, Corsica and Morocco

Chasing Matisse Newsletter

Contact Us



View All Diary Entries Here
April 5, 2004
Woven Voices



I opened the sliding glass door of our swish room in the Palais Jamais which once was the palatial home of a grand vizier to the sultan. This posh hotel is an oasis in the Moroccan landscape, and one of my favorite places to stay in the world.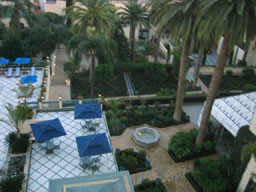 As I stepped onto the terrace, the sun was up and shining, the air cool. I looked down upon the hotel's manicured Andalusian gardens and sapphire pool and beyond to the ancient medina that sprawled across the panorama. Its warren of path-sized streets and buildings bloomed with the minarets of scads of mosques. We knew they were there but not in such mass. The morning call of prayers had been our crowing rooster that someone was up, while dawn still had the good sense to hold back. I slid back into bed while Jim showered. Within minutes, a flock of petite birds were hopping into our room, flitting up on chairs and the foot of my bed. No doubt they had breakfasted on the plates of nuts, fruit, cookies, and crumbs of croissants in the elegant Palais many times before, but no luck with us. Our stash was covered though the brave little birds added to my curious morning sensation that some people unwittingly refer to as cheerfulness, or in this case, perhaps it was the dizzy delight of waking as a sultaness.

Aziz was waiting when we made it out the door. He'd brought our first-rate guide for the next few days, Mr. Omar. Official guides in Fes wear jellabas which are long flowing robes with attractive hoods that drape down the back or are pulled over the head. Men and women alike slip them over their clothes. They are the Moroccan national costume, and one sees them everywhere. I'm guessing George Lucas must have been introduced to Morocco before envisioning Star Wars, because his characters are fitted out in shades of this gear. The guides top themselves off with a maroon fez. Omar looked quite distinguished in his.

We took a short drive with couple of stops along the way, but next was the medina, which I was dying for Jim to experience. I had taken this tour of Fes once before, and I knew how shocking this old center is to the Western sensibility.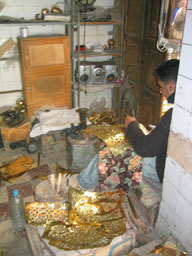 Picture a noisy human ant colony bustling through the business of the day. Enigmatic energy pervades the exotic sights, sounds, and smells that jolt the brain. Dyers of textiles, cutters and molders of brass trays and pots, weavers and woodworkers diligently work in dimly lit cave-like rooms with dirt floors to create the exquisite crafts for which Fes is known. Old wrinkled men with white beards and young men with black hair briskly work, and the traditions and skills are passed down to each new generation. The tanneries are outdoors with big vats of dye and rank odor. One's eyes are agape, senses standing on end, when you are warned to jump out of the way for a donkey packing some sort of goods, even the garbage. No cars can get through.

The stalls of the sellers are jam-packed with fruits and nuts, jellabas and cloth to make them, household essentials, spices, henna for hair dye and impermanent tattoos, brass works, and rugs. Fried fish, boiled eggs, breads, sweets, and brochettes are cooked and sold. Crates of live chickens are awaiting the ax or to be taken home by a buyer. The streets are alive with workers and shoppers, babies slung on their mother's backs. Darlings, it is madly untamed though not in the fashion of the old American West. It is rather a sense that time has stood still though the survival of life turns at a furious pace.

The walls in the medina are centuries old and gloomy, so you can literally walk by a palace and never know. It is always the interiors that reveal the fantastic colors, fabrics, mosaics and tiles of this culture. We stopped at several mosque doorways to get a glance of the rich inner sanctums, but tourists are allowed into the Medersa Bou Inania, a deep-rooted theological college and a striking example of the fine Moroccan plasterwork and woodcarving. One of the most beautiful palaces you can visit in Fes is the home of the rug cooperative, Aux Merveilles du Tapis which has a huge selection of old and new carpets Arabic and Berber.

I must alert you. It is dangerous to be surrounded by this beauty. One sits on a lush banquette and is served a glass of steaming mint tea while a selection of handsome carpets is brought for her scrutiny. The clever merchants start with the new ones, which let me tell you, are something to shake a stick at. Then they tantalize you with the old ones which have an opulent patina of age and design, a history of life that sings.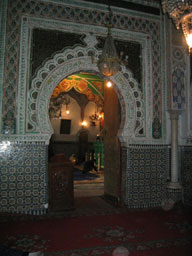 The last time I was in Morocco, one of my excellent guides from Olive Branch Travel told me the story of the women and their rugs. In the olden days, women were said to leave their house only twice-when they married and when they died. They might go to the hammam for a bath in the cover of night, but the point was that women weren't seen publicly-not in the mosques or even when male visitors came to their homes. The ladies were hidden behind screens through which they could peer. Their only close contact with a larger world was with female relatives, and they used their spare time to weave rugs in which they told their stories in symbols. Creating them was their outlet, their means of self-expression in which they could connect with themselves and the universal spirits who cosmically saw and heard them. How powerful! Madame Loves-All-That, me, felt conjoined in their sisterhood, their language in art and woven voices. I didn't buy a carpet back then, but we needed one now, and I had an idea this was my great opportunity. In other words, I set myself up. (I blame this penchant for acquiring beautiful things on my beloved mother and brother.)

Jim and I were drawn to the Berber pieces which were patterned with tribal symbols and icons. Of course, they were old ones. Jim stayed out of it, but after three hours of my-mama-was-Scotch/Irish haggling, we became the owners of le tapis de Moroc and at a miraculous third of the price from where we started. I like to bargain but had never been at it like this with pros. It was astonishing. Right place/right time/out of my mind, proud and pleased with myself. Jim tartly suggested the guilt would arrive later.

We consumed a delicious lunch starting with the typical first course of salads-various mixtures of aubergines, onions, courgettes, peppers, tomatoes, beets, carrots, olives, and beans slathered and cooked in olive oil and savory spices that define the distinctive Moroccan palette. Omar led us back through the snaking streets, and we made one last stop at one of the hand-painted ceramic shops. The plates, bowls, and dishes, mosaic tables of all sizes and shapes are another of the remarkable crafts found in Fes. I know which dinner-party-sized slab I want when I get my mas in the South of France.

What a brilliant, long, and exhausting day! But after freshening up, we continued on to dinner and maybe the best meal of our trip. La Maison Bleue is another old palace with a wonderful restaurant and rooms to be let where you can imagine Humphrey Bogart delivering his lines, which is one of my gauges for authentic and cool. Course after course of delectable food was marvelously delivered with North African music, the playing of lutes and the wailing of chant/songs, the musicians dancing while spinning the tassles on their fez.



*


As I went to sleep, it was the voices of women, their chorus in carpets that sang in my head.


(This column is dedicated to my mother, Bobbye Ann McAlister Arnold.)




posted by Beth on April 5, 2004 | View All Diary Entries
---

View All Diary Entries Here