Home

Chasing Matisse: The Book

Chasing Matisse Preview:
Cover and Prologue

Buy The Book

Book Signing Schedule

News & Reviews

James Morgan's Bio

Beth Arnold's Bio

Book's Press Release

Leaving Home

Introduction to the Journey

Travel Itinerary

Beth's Travel Diary

The Sketchpad

Photo Gallery

Travel Notes and
Recommendations for France, Corsica and Morocco

Chasing Matisse Newsletter

Contact Us



View All Diary Entries Here
March 26, 2004
The Voice of Ancient Stones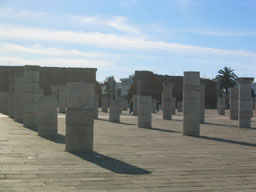 The pillars stood alone without the structure of a building or even a roof above. This legion of ancient stones had quietly spoken their history with a mysterious and compelling energy that called to our Western bones and lifted us in wonder. Whatever vibe it sang out was one we felt and heard.

We hadn't expected this. We were making an afternoon tour of the Moroccan capitol of Rabat, where Aziz had driven us from Casablanca. It had been a smooth ride with the blue Atlantic Ocean in sight and seaside villages interspersed in long stretches of wild coastline. Spring stretched lush green into the countryside and carpeted forests of cork and eucalyptus with her young grass. Far from a city or town, we saw groups of two or three people sitting underneath the trees. Doing what? It was odd that we'd noticed people plopped down on almost any green space available, in the middle of what looked like pastures or empty urban lots. I asked Aziz if these areas were like parks, and he answered in the affirmative.

We were trying to understand this seemingly strange phenomenon, but it was several days before my "pasture sitting" theory took shape. Historically, there must have been little need for parks. Men lived their lives outside, but women were concealed behind the plain exterior walls of their houses to live, work, and raise their children. A public social life was an oxymoron for the female gender. Their entire world literally was the interior, and most gardens occupied this space. Color, beauty, arts and craftsmanship in tiles, mosaics, fabrics, rugs, carved woods and plaster, and even the garden plantings were only to be enjoyed by those let inside. I've since read the contrast between plain exterior and rich interior of the traditional houses indicated the sharp distinction between public and private life in Islamic society. Also, courtyards provided light, air, ventilation, and a place for protected activities in the hot and dusty climate. In other words, my theory wasn't half-bad. But with the difference between then and now, there is a niche for public green (or desert-flowered) spaces and urban landscape plans.

After a good lunch of lamb tagine and chicken couscous, we met our guide in Rabat, Mr. Ahmed Saadi, who speaks many languages fluently, is well-educated and well-spoken, and is insightful about his country's history and culture. More than that, he holds great hope in Morocco's future. As he showed us the royal palace, I was just as impressed by his passionate discourse as I was the lustrous bronze doors with their swirls of metallic color that made me need my sunglasses.

When we told him about our journey of chasing Matisse, he suggested stopping at a museum where the work of respected Moroccan artist, Cha´bia, was being shown. Ahmed explained that Cha´bia was illiterate, and he likened her palette with that of M. Matisse. We happily agreed, and as we walked in, he spotted Cha´bia's son who just happened to be there. Ahmed introduced himself and then us, and the son kindly handed us a catalogue of his mother's artwork. Her figures were big, bold, and primitive, and their gender was mostly, I think, women. I would call her style "self taught" or "na´ve." Some of her figures looked muppet-ish to me while others were tribal, some angry while others seductive. A few were the classic aliens from outer space. Her work had its own style and verve which makes good art noteworthy.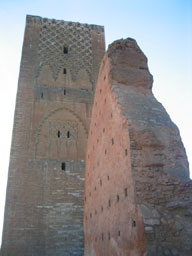 When we left, Cha´bia's generous son signed our book with an intriguing sketch of a woman I wish I could say was me, but the truth is I don't think so. All in all, it was a lagniappe moment that couldn't have been planned but Ahmed walked us into.

It was directly after this bit of luck we arrived at the Tour Hassan and the rapturous energy of the unfinished mosque of which the pillars had once been a part. When it was begun by the sultan Yacoub al-Mansour in 1195, it was meant to be the largest mosque in the western Muslim world, but when he died four years later, the work stopped. The unfinished shell remained a structural ghost until 1755 when an earthquake took down most of it. The tower, a chunk of wall, and the silent columns that once had been shattered but now resurrected are the elements that we saw and touched and spoke to us with what I believe was mythic power. Is this a typical tourist reaction? I have no idea.

I can imagine a couple of vintage movie scenes. Audrey Hepburn and Gregory Peck chance a romantic encounter to bask in the moonlight illicitly, but once they are found, they sneak around the pillars to lose whomever may be following them. Or Fred Astaire has been booked for a royal command performance, but he and Ginger have a fight, split up, and she heads out of town. As Fred is kicking his feet around the lobby of his hotel, he discovers a graceful young woman who learns the routine. He sends her a dozen roses and a gown of aqua chiffon, then twirls her masterfully through the columns as the King and Queen look on. I can't imagine a better setting for a modern dance troupe either. Mikhail Baryshnikov and a flock of women creep in wearing dark jellabas before the electricity takes control of their bodies and the hooded capes thrown off for a leaping, jazzy number.

Our final stop was the Kasbah. Who doesn't want to go to there? Yet this voluptuous word is a trick, a wolf in sheep's clothing. Kasbah's definition is a fort or citadel, so I have corrected this unjust wrong and devised my own meaning. To correct your old dictionaries: Kasbah is a dreamland with cool ocean breezes, lush gardens, sumptuous palaces and huge, lounging chairs covered in filmy canopies. While mesmerizing music floats through the scented air, the healing gurgle of water runs through marble fountains. It is mandatory to relax in silken robes as comfy as pjs, lie on your chaise lounge and read a good book while sipping mint tea that is delivered by whomever you want to then shower you with attention.

Our actual stroll through the Kasbah was a breath of fresh air. We followed the path through a sensual garden, perused the shelves of a boutique selling books and art (a literary salon on some evenings).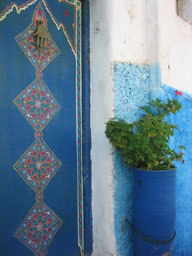 We relished the streets of houses painted blue and white for the union of sea and sky, their separate elements being fused in watery air. The doors made me happy. Most were painted some hue of blue but also patterned with flowers and geometric shapes in purples, pinks, red, oranges, and other tones of sea and land, but some were polished wood outlined with metal studs. Many were decorated with the open palm of Fatima with fingers pointed up which is a symbol to keep the powerful evil eye away. Who couldn't use one?

I think Ahmed might've been a little put out with silly us. I'm sure there were other objects or places of import to which we should've been paying more attention, but it was the vibrant Moroccan colors that called our names many years ago. Perhaps a wise purple and fiery red foresaw our journey with Matisse and were cabling a preview. In self-defense, I also say good design is riveting. We oohed and ahed and left Rabat and continued on to Fes, where I knew Jim would be ensnared by even more lavish pigments and lines of Arabic and Berber derivation.

Would ancient stones be calling there? May be, but who knew if we would hear them.



posted by Beth on March 26, 2004 | View All Diary Entries
---

View All Diary Entries Here