Home

Chasing Matisse: The Book

Chasing Matisse Preview:
Cover and Prologue

Buy The Book

Book Signing Schedule

News & Reviews

James Morgan's Bio

Beth Arnold's Bio

Book's Press Release

Leaving Home

Introduction to the Journey

Travel Itinerary

Beth's Travel Diary

The Sketchpad

Photo Gallery

Travel Notes and
Recommendations for France, Corsica and Morocco

Chasing Matisse Newsletter

Contact Us



View All Diary Entries Here
March 20, 2004
(Note: I'm digressing from finishing up our earlier journey to write totally about our recent trip to Morocco.)




Space to See



The immense mountain that juts out of the Pyrenées-Orientals, Le Canigou, was magnificently robed in ermine snow with billowing white and gray clouds hovering over her. Canigou is usually our first sign of home but this time she was our portent of leaving. We were racing up the highway to Toulouse, and though we have driven this road many times, I had missed grand and handsome mas and chateaus that were exposed in the starkness of winter. So many factors are involved in one's seeing. Seasons, angle of sight, weather, and even moods determine the landscape or objects our eyes let in, and in turn, coloring our vision. Today I see this stretch of the Languedoc-Roussillon which spills into the Midi as pastorally elegant, and the fairytale fortress of Carcassonne as filled with beautiful maidens awaiting handsome knights who will carry them away in splendor.

This is our first big trip since we've returned to France, our first voyage to leave our good dog Snapp, whom I've decided should be titled and so I have given him a duchy. The Duke of Snapp is being attended by our new American friend Rachel. We have informed her that she needs to keep a sharp eye on him while we're away, so he doesn't take up with a stranger. It's not that the Duke is fickle or disloyal. He stops to indulge in an aromatic bouquet on the street or to relieve himself, then trots off with the nearest passing human, and we turn around to discover he has disappeared. A moment of panic fills us until we track him down, usually enjoying the company of someone unfamiliar. The Duke has become eccentric and a little dotty in his old age, qualities that often afflict the worldly and distinguished.

The Toulouse airport was a great discovery—even nicer than pleasant Montpellier's—with a newsstand that carries heaps of English-language magazines and books. Like a crazed woman, I snatched up a stack as fast as possible while trying to squeeze my overflowing cart through the aisles. I couldn't help myself. We hadn't come across a cache like this since W.H. Smith in Paris, and I plunked down almost €50 and carried an additional freight of fashion, house, garden, style, and celebrity along with my over-packed bags. Several were British versions of titles I thought exclusively American, which wasn't bad at all. I have become a fan of British journalism. Apologies to my British friends whom I don't include in what I'm about to embarrassingly say, but I'd thought the British personae was possibly dull and boring which means I'd been woefully unaware and misinformed. It makes perfect sense. The hilarious British TV show Absolutely Fabulous didn't come out of some politically correct comic Void. With the exception of our musical vernacular and slanguage, it is we Americans who cling to political correctness and stodgy attitudes, while Bridgette Jones lives and breathes with sardonic wit in London.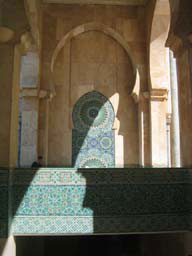 We were pursuing another important passage in the seeing of Henri Matisse, and that would be Morocco where the scenes, colors, light, architecture, dress and physical mannerisms of the people captivated his imagination and resulted in an important series of paintings. Our first stop was Amsterdam, and if you look at a map this makes no sense at all, but KLM offered cheap tickets so we were flying to Casablanca through the Netherlands. I may have been to Amsterdam on my first trip to Europe though I'm not sure. It was long ago and a whirl of cities and countries some of which now escape me. If I careened through it, the city didn't jolt me like Paris and Rome, but what I say now is even Amsterdam's airport is cool. Restaurants, shops, a mini-museum, and casinos give it a pop/oasis feel, and areas with lounging chairs made to rest and sleep are scattered about. The energy is clean, progressive, and vibrant. I consider this a calling card for the city's zeitgeist which I now want to return and explore. KLM displayed the same verve. The space in their economy class put cramped Delta's to shame, and we were served a good, hot meal when Delta would've delivered a bag of pretzels.

We arrived in Casablanca at 11 pm. It had been a long day, and we were happy to be met by our driver, Mr. Aziz Abou Ouafa, who would also become our caretaker, organizer, guide, and friend over the course of the next week. He delivered us to Le Royal D'Anfa Hotel, but we were so excited that it was 2 am before we laid our heads down.

Morocco had always been part of our plan in chasing Matisse. There was no question that this North African country, which was the first to recognize the newly-independent United States as a nation, inspired Matisse's vision and art. But when the Iraq war erupted, we backed off. Right or wrong, we were afraid it wasn't a good time for Americans to go. After returning to France in January, we changed our minds, and I emailed Mr. Bennachir Akli at Olive Branch Travel whose company had provided terrific escorted excursions when I'd made my first trip to Morocco five years ago. I knew their expert services and wanted the guidance of Olive Branch again.

Long distance communications, even when they're upbeat, are not the same as meeting eye-to-eye. We have ideas and expectations about our correspondents which may or may not be true at all. A personal meeting is more telling. We can open our senses, and as the French say, "regard" someone in a more broad and intelligent way. We met Mr. Akli and his worthy assistant, Mr. Adel Mzil, for coffee on the morning after our arrival, and our conversation quickly passed the superficial and became thoughtful and engaging, forging our connection. This is a wonderful and lucky surprise when you meet anyone anywhere in the world. Mr. Akli is a seasoned and knowledgeable professional, and his company makes traveling in Morocco smooth and silky which I knew from my previous experience, and Mr. Mzil had done an amazing job coordinating our schedule and lodging. This trip was going to be a blast, and Aziz was waiting.

When we stepped outside, Aziz gave us a full tour of our teal Mercedes van that was loaded with amenities—DVD player, fold-out table, refrigerator, and roomy, comfortable seats—a luxurious ride for two travelers who had rocketed through France on their own steam. This was Jim's first sojourn to Morocco, and he didn't have to drive. For once, he could observe, take notes, and savor just being there. He could experience and process in real time without being burdened by logistical responsibility.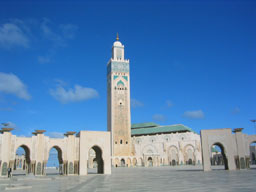 We glided through Casablanca on the Mercedes cloud, while Aziz gave us a tour of his home town. We stopped for a tour of the enormous Hassan II Mosque which is situated by the Atlantic Ocean. The glorious mosaics of blues and greens, ochre and gold gleamed in the sunny sky with sapphire ocean lapping below. This is one of few Mosques that non-Muslims can visit and more beautiful than I remembered. We drove along the coast lined with restaurants, hotels, and palaces of the wealthy and then headed to Rabat.

The colors were already calling Jim, and he had the space to "see."







posted by Beth on March 20, 2004 | View All Diary Entries
---

View All Diary Entries Here