Home

Chasing Matisse: The Book

Chasing Matisse Preview:
Cover and Prologue

Buy The Book

Book Signing Schedule

News & Reviews

James Morgan's Bio

Beth Arnold's Bio

Book's Press Release

Leaving Home

Introduction to the Journey

Travel Itinerary

Beth's Travel Diary

The Sketchpad

Photo Gallery

Travel Notes and
Recommendations for France, Corsica and Morocco

Chasing Matisse Newsletter

Contact Us



View All Diary Entries Here
February 18, 2004
The Circles of France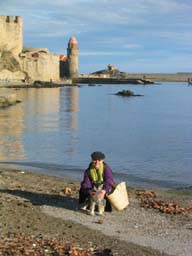 Here in Collioure when I am the morning walker of Snapp, we often follow the street that runs by the side of our house and which our balcony looks down upon. It is the last rue on this side of town, and though I hate to admit this, I'm not able to identify which direction it is in the earth's magnetic field. I think I have known since I've lived here, but my memory fails me, and a natural sense of directional bearing is not one of the talents I happen to have. I think I used to be better at finding true North, and I've spent days and days in the car being our navigator and done very well, but then there are those moments in a city, when I can't look at a map and figure out at all how to get to where I want to go.

This is made worse because France is a country that spins you round and round in circles wherever you are, and I mean that quite literally, so when you come out the other side of a rond-point you're never quite sure which direction you're headed in. This must be just as factual for those who aren't impaired at finding their bearings. There are loops on narrow rues and big highways and at turning points to go anywhere. I don't know how long the physical road structure has been this way. Did 12th Century pilgrims on their way to Santiago de Compestela hike around these spherical intersections looking for a sign to point their way to the bones of St. James?

The good thing about the roundabouts is you can have as many chances as you want to determine your route instead of making a wrong choice that is a commitment to driving forever down a road looking for a place to turn around. Jim grumbles when he doesn't know where he is or which direction to go. I have learned not to be nervous as I once was, because the other great advantage of the endless rings around everything in France and the signage, whether a pig-trail of a small village rue or a four-lane city boulevard, is that sooner or later there are always signs to Toutes (all) Directions that one can follow to find his way anywhere.

It has recently come to me that this institution of dizzying circles is a symbol for more than the traffic routes in France. On television, talking heads are forever discussing whatever-it-is which doesn't stop for more salacious prime-time trash, bad sit-coms, or the culmination of some stupid reality show to elevate ratings. (We recently saw George Clooney's movie, Confessions of a Dangerous Mind-Man in France-and these reality shows might raise Chuck Barris to the status of high-brow intellectual for "The Dating and Newlywed Games." I'm not sure I can include "The Gong Show" in this.) And if you've read Polly Platt's book, French or Foe, you understand that nothing gets accomplished in French business meetings except talking and talking and more meetings to come. I also learned from her that engineering is one of the most prestigious professions, and my circling theory comes to a gyrating point with them and the architects. I've lived here long enough to appreciate some innovations and to recognize that others (like some modern architecture) are original but bad. I think the competition to produce something inventive must be quite intense.

With my circling theory, I recognize that looping round and round in life is culturally apropos here. Getting anywhere as the crow flies is not the French way.



---------------



While we were in Vence, I started buying hippie clothes, ie. Indian as in Bombay, Gandhi, and Bollywood movies. I'd finally gotten rid of my last hippie shirt several years ago when neither of my daughters recognized its level of vintage cool and never thought I'd tread that stylistic road again, but I walked out of the store with two gauzy skirts adorned with vibrant colors and patterns and two cotton shirts of paisleys in pumpkin, chartreuse, fuchsia, and a variety of blues with sequins to boot. (Note: These are not to be worn Paris but as country costumes.) Am I reverting to my younger self, or is this an expression of my new life in France where ethnic is cool, or is it merely being in the South of France where life is looser?

I'm sure I must have worn one of my new ensembles on the day we drove to Grasse with intentions of perusing the Fragonard museum of perfumes, but the crowds were so thick, we didn't even park and straightaway drove out of town. Our alternative route back to Vence took us through craggy hills and their villages like Tourettes (as in the bizarre cursing condition) which were ever so charming and made us wonder if we'd like to live in one of them, even though they are filled with foreigners like us. Many local residents have long ago sold to British, Americans, their own countrymen, etc. who have restored the old maisons and outfitted them as second homes.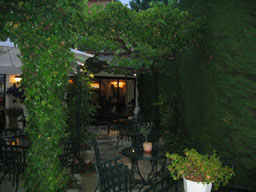 Our writer friend Jeffrey Robinson called us with an introduction to an old friend of his who lives in Vence, an artist named Jim Ritchie. The next day we met Ritchie and his two attractive assistants for lunch at the lovely Les Templiers restaurant. It was hot in the sun, and long-standing bon vivant Ritchie was wearing shorts and a loose shirt. His hair was white and pulled into a ponytail. He is Canadian by birth and has many good stories to tell á la Hemingway. He has lived in this village of Matisse's chapel since 1959 which means he's met everyone of note who's spent time there and has seen the tremendous changes from rustic, laid-back hideaway to a sought-after holiday destination for the rich. We sat at a long garden table and ordered a fine lunch with champagne and wine, a grappa to end.

To continue our festivities, M. Ritchie took us up the hill to the villa he calls home, a stunning retreat with one of the most spectacular views I've ever seen from a house or hotel anywhere. From Nice to Antibes, the Mediterranean sparkled across the horizon with sailboats and cruise ships speckled over the sea. Terrace after terrace descends from the house, one with a swimming pool, outdoor kitchen, and dining table for lush entertaining, and others with orchards or vegetable gardens to provide part of the meals. It is the ultimate layout for the French country experience. This reinforces the idea that you don't have to be directly on the sea to get the pleasurable aquatic effect.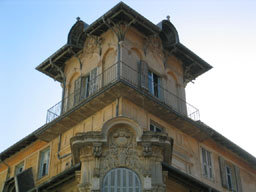 Ritchie has lived the artist's life for many years, and when we later drove to the village square to a Flower Festival with Portuguese dancers, we saw the wonderful tower apartment that he had called home before he moved to his current hillside address where one of the Rolling Stones is a neighbor. Our circle and his intersected with Jeffrey Robinson, and we have found a new friend.



---------------



When Snapp and I amble up the rue, a high stone wall shelters us from the chilly wind. We pass by a tree loaded with lemons and a garden that an old woman lovingly tends. When we reach the end before the street curves toward the village, a tidy family house comes into our view. It is two-stories with blue shutters, and even when the mornings are refreshingly cold, the windows are thrown open to a hillside of vineyards climbing to the sky.

I hear a rooster crow, and Snapp and I make the arc that takes us into town and the rue de Soleil that circles us back home.



posted by Beth on February 18, 2004 | View All Diary Entries
---

View All Diary Entries Here