Home

Chasing Matisse: The Book

Chasing Matisse Preview:
Cover and Prologue

Buy The Book

Book Signing Schedule

News & Reviews

James Morgan's Bio

Beth Arnold's Bio

Book's Press Release

Leaving Home

Introduction to the Journey

Travel Itinerary

Beth's Travel Diary

The Sketchpad

Photo Gallery

Travel Notes and
Recommendations for France, Corsica and Morocco

Chasing Matisse Newsletter

Contact Us



View All Diary Entries Here
February 4, 2004
The Dream Villa

It is different now. The crowds are gone. The village is quiet. Most stores and restaurants are shut for rest and renovation. This was happening before we left in September, but while we were gone, Collioure has returned to herself. The feminine usage: She seems like a woman to me with her safe, liquid harbor and brightly painted skirt that surrounds it. Her home is wall-papered with vineyards and the Matisse blue of the sky, and her light is in the sunbeams. Lovers of such find solace being enveloped in her motherland. Like a siren, she calls artists, sailors, and searchers to come to her shores.

Though we missed a chunk of it, winter is the window of opportunity to really become part of the life here. The cold months are the time when residents warm to invaders such as we are. After the hordes have deserted, opportunities to have little chit-chats avail themselves and the Collioureans open up-especially when you have a dog.
With Snapp along, more people speak to us which is mostly for the good. They stop to pet him or compliment his well-groomed visage. He is handsome, after all. But there is the white-haired woman with her little white fluff dog who fusses at Jim about Snapp, because he is not on a leash all the time. It's possible that she's concerned about Snapp's safety and not Jim's canine etiquette-plenty of dogs run loose with their masters-but Jim doesn't know. He doesn't understand what she's saying, but he knows she's not happy with him. I keep telling one of my friends to get a dog, and she'll meet people. You know who you are. Get a dog, and you'll meet someone!

They say pets resemble their owners, and Snapp is the spitting image of Jim. Just look at his picture. His hair is peppered black, silver, and gray, and he sports a smart beard. Elegant and proud, he carries himself lightly, virtually prancing when he's feeling on top of the world. He loves to sleep, pouts when he doesn't get his way, and growls when he feels under attack for reasons imagined or real. Actually, Snapp looks more like Jim than either of his human sons who tower over him (where did that tall gene come from?).

Collioure is French Commando headquarters, and winter is wonderful Commando watching time. Imagine a platoon of muscles-bulging-through-their-camouflage hunky French soldiers training to carry out war and survive. The other day one company was practicing getting their buddies across the canal one by one lying in a rubber raft with all their gear and guns, while on the beach another faction furiously pumped up others. The idea seemed to be Commando vessels for a getaway to sea. There must be a requirement for the men to be good-looking. Trust me on this, ladies. It might be worth a trip over. The "Sex and The City" nymphs would be hitching a ride for a hopefully happy ending with a Mediterranean sunset or at least a bumpy spree.

Before all the troubles (with my Dell) and our stay in the U.S., my diary had left us in Nice having just returned from Corsica with its sparkling sea and earthy maquis, where I long to go again. Jim needed some shorts-he couldn't find his in Arkansas-and we'd bought him a stylish yet comfy linen pair that we decided to duplicate in another color. White. That was the only choice. I've never been a big fan of this colorless color, except in a kitchen which becomes a crisp palette for the rich textures and tinges of vegetables and fruit. But white fashions are a standard in the South of France and other Mediterranean countries as well. It's a flag that signifies the heat of the sizzling summer yet the coolness of the one who is wearing its chic. I didn't acquire anything myself last season but must purchase something in the next one. (There was a long Indian-style shirt I licked my lips over at a shop in St. Tropez but kept myself away from.) When Jim tried them on and took his shirt off, he looked like Pablo Picasso in the famous photo. Just as dashing and sexy, I might add.

We retrieved the rest of our carload of belongings at the lovely Le Grimaldi and said goodbye to their wonderful staff. It was a home for us. With all the recent extras we'd added to our load, we were stuffed with all our stuff for the short trip to Vence and the huge Matisse payload which awaited us. We found the Matisse Chapel right away, and that was a thrill. We knew Villa La Reve, the house Matisse lived in for about 6 years in the 1940's, was right across the street somewhere. We ended up asking a nun to point it out to us.

Villa La Reve. The Villa of Dreams. What could be a more mystical and mysterious name for the place where Matisse produced some of his paintings we love so well. Matisse connected with his own reveries and ours in this Dream Villa. The visions of humanity seeped in his soul and came out on his brush to the canvases which call to us in ancient song and verse.

We pulled into the driveway of The Dream Villa. It was wild and wonderful like "The Secret Garden" I loved so well as a child. It was natural and unruly like French hippies lived there in a "Gray Gardens" sort of splendor. The house itself had been grand but was in a bit of disrepair, yet plenty charming enough for me to see myself in it for a very long time.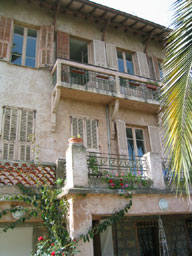 The town of Vence owns it, and Joelle who manages it for the city fathers drove up with her pretty daughter, Sourya, who has café au lait perfect skin, big brown eyes, and long hair flowing with waves. In season, Joelle books art tours, where artists bring groups of lucky students to come and paint here. Oh, Heaven for them and us.

She took us to our room, the master Matisse's room, where he had created color and light into harmonious canvas, and he lived. It was plain though big with a good-sized balcony and the famous palm trees in the windows that are in many of Matisse's paintings from this period. When M. Matisse was the resident, our room and the next one were joined in a dramatic chamber of size and quality. The woman who owned this property before the city made it into a girl's school. She chopped up the rooms and added showers and sinks with dormitory-style warrens of toilets. This was a tragic rendering of the villa but didn't diminish our enthusiasm in the least. Jim was simply out of his mind. He was reeling with joy to be sleeping in the room of his hero, and I was a gleeful follower.

We had a lovely glass of wine on our balcony--Matisse's balcony--at Villa La Reve. We celebrated our good fortune and ecstasy for being there, then drove into the center for a "gastronmique" dinner. It was the first time that we had seen a drink and wine package with such a meal, and it was worth the extra money. As we enjoyed our aperitifs of champagne, I chatted up our fabulous waiter who was a stunning black man originally from Guadeloupe with stark white hair. Five years ago he came to Vence from Paris to visit a friend, but he never left.

Had he found his own villa of dreams as we had found ours? Or was it a sunny life in Southern France with the spirits of Matisse and Chagall and the others who danced in Vence's air that captured him? Vence could make a good home, and we knew exactly where we wanted to live.






posted by Beth on February 4, 2004 | View All Diary Entries
---

View All Diary Entries Here