Home

Chasing Matisse: The Book

Chasing Matisse Preview:
Cover and Prologue

Buy The Book

Book Signing Schedule

News & Reviews

James Morgan's Bio

Beth Arnold's Bio

Book's Press Release

Leaving Home

Introduction to the Journey

Travel Itinerary

Beth's Travel Diary

The Sketchpad

Photo Gallery

Travel Notes and
Recommendations for France, Corsica and Morocco

Chasing Matisse Newsletter

Contact Us



View All Diary Entries Here
June 7, 2003
Driving to Collioure

"Don't look," I said, "But this is such an incredible view. Really amazing.But don't look."

Jim was winding around the dazzling and dramatic cliffs of the Costa Brava with villages nestled among the mountains that fanned and dropped to the sea. As the road went higher and higher, the view got better and better, but it was one of those terrifying drives, spectacular and scary with no railing along the way. If I was steering the car and chanced a glance, I'd be swooning with vertigo. One slip, and well, you could be Princess Grace with or without stroke. Hence the torturous and somewhat neurotic, "This is stunning, but you can't see it." (Remember my and my siblings' fear of heights-our father leaning us out over lofty places like the Royal Gorge so we could get our little eyes full? Or perhaps what he had in mind was that we should become daredevils, circus performers, or the most lucrative of all-adventure movie stars.)

The coast from Spain to France is a trip that lifts one off the ground. After the cliffs fling we mortals into the sky, the terraced vineyards quilting the mountains bring us back to earth. A fresh Mediterranean breeze blows seduction from shore to shore, while the hum of Catalonian history reverberates as cicada songs. This ongoing spectacle is nothing more or less than an electrifying view of a part of the world, one that neither of us had ever seen.

To my chagrin, Jim stole a few peeks. But view or not, he was already thrilled-we were headed to Collioure. This French seaside village was just up the road and had been much on Jim's mind since we left Belle Isle.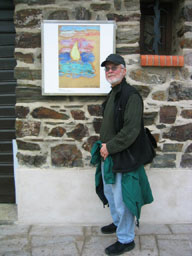 Yes, besides charm and beauty which ooze from its steps to roofs, I'm talking a major artistic moment in the life of Matisse. He saw (noticed, experienced, realized, understood, visualized, recognized) the light of the South as in the gospel hymn. To add to the excitement, we'd also imagined the area as a place we might like to live. Southwestern France is said not to be as heavily traveled or as touristy-also theoretically cheaper though just as beautiful as Provence. Not to mention I had envisioned living in a fishing village for years (which, of course, was before I had my recent unpleasantness with fish).

We'd read and heard about the Côte Vermeille which also includes Banyuls-sur-Mer, a village that has its own seaside allure and is famous for its regional wine. We stopped to pick up a bottle of it and three more from Collioure. Port Vendres was dandy, but neither held a candle to Collioure as we drove in through more mountains and vineyards to the intimate bay with its citadel and castle floating on the Mediterranean.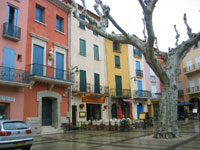 Narrow rues running up to the views and down to the water provided piping of cobblestone and outlined the old village, where townhouses of many colors and festive signs and banners announcing them stood one after another. The energy was relaxed but vibrant with the hues, sounds, and smells of the sea and frying garlic, and we immediately felt as happy as cooing doves at twilight. We might want to live here which really hadn't happened since Paris, although there was a slight tug at St-Jean-de-Luz. That night for dinner we ate the paella we'd missed in Barcelona as well as a plate of grilled anchovies (the fish that Collioure is known for). It was all quite good, though I again felt slightly repelled about the seafood-a strange phase which I've seemed to pass along to Jim, unless we have achieved twin-like internal harmony. Right.

Collioure is a town of art and artists which began with M. Matisse (when the houses were not brightly colored but dull and drab and the bay smelled of anchovy innards). Even with the sky spitting rain, it didn't dampen our enthusiasm.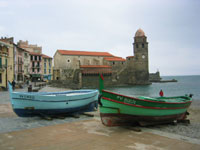 We wandered and looked to see what we could see. After lunch on the waterfront, we dropped back by a gallery that had caught our eye and curiosity. The owner, Carol Watanabe, had expressed her joy of Collioure with her colorful sign with its sentiment of finding her solace. Why not? We were looking for ours as well. The fact that she felt so was a good omen and inclined us to want to speak with her. I knew she must be an American since the sign was in English and with the words that she used. The door was open, and we walked through it.

We stepped from the outside of Collioure to in-at least for foreigners-when we introduced ourselves to Tessa. She was manning the gallery-an English woman and artist who has lived in Collioure the past year but in the nearby Pyrenees for the past several. We liked her and her painting of a nearby square right away and struck up a conversation that included our desire to potentially find a flat or house here. We were bubbling like a bottle of water with gas in delight for our prospects. As we were leaving, she called out that she knew of two apartments that had been available, and would we like her to call the owner, Gerard, and inquire. Well yes, we would. She got him on the phone, and we immediately left to meet him. Could our luck be so good?

Gerard's lovely old building was on the other side of the village away from the heavy tourist traffic which could be nice, since July and August are packed with vacationers whether spending a night or on their way through. The apartments had just been beautifully renovated and air conditioned. The second floor flat was huge with spacious rooms where we could work, live, and have visitors. It even had an elevator which was in and of itself a miracle and boded well for us and would be good for my mother when she came to visit. The only problem-the flat was unfurnished. With all the furniture we possess-in storage in Arkansas-we would have to buy more as well as take on this project. How could we commit ourselves to this? We'd just taken a house apart. We didn't want to put one together again and certainly weren't ready to ship our belongings over and then have to wrestle with this added baggage.

The third floor flat was a cool and nicely-decorated loft. We loved the space and the view from a small balcony. But it was much smaller, and Gerard had in mind for it to be rented throughout the season on a weekly basis-which meant much more money than the larger but unfurnished one.

These spaces had landed in our laps within 24 hours, but what to do? Neither one fit us perfectly, but as the French say, we were "la chamade" (our hearts racing, we'd lost them to love). That night we talked to Blair and Bret but couldn't get Mother on the phone, and the next morning Jim went out sketching. He was deliriously happy. It was shining in his eyes and tripping off his tongue, his body was lighter. The beauty of Collioure is radiant in its art and energy, the sea and sky and vineyard-covered hills, and he was reflecting it.

That evening we had tapas for dinner at a hip local hangout called Le Zouave. The fresh garlic was pungent and pervasive in all our bits of this and that including fantastic calamari and fresh tomato puréed with the ail and dolloped on good bread, a mixture of peppers, onion, tomatoes. Collioure is in Catalan country which is the collision of France and Spain on the opposite coast from the Basque. Catalonia reaches as far as Barcelona and up to Perpignan (and further). The Spanish influence is felt in all the traditions as well as the food, the look of the people.

The next morning we met Tessa for coffee at a café near the sea. As we were discussing how wonderful it is here and how much Tessa loves it, we noticed Gerard and a friend sitting a few rows away. They joined us, and when we did that French kiss thing, he remarked that I smelled of garlic (oh, good), and that he had grown up in Czechoslovakia with big-chested women who smelled of garlic, and he thought it sexy. I replied I thought garlic was always sexy, trying to divert from my own garlic smell and lack of chest but overabundance of bottom.

Gerard's friend, Pamela, was Canadian and was preparing to return home after traveling for some months in France with not a lot of money. We talked as travelers often do about how much energy it takes to be open to see the world around you, to process what you find. Again, we notice that the people you meet wandering the world are amazing, interesting, usually open and adventurous. We impressed Gerard once more with our interest in his flat and then strolled a few blocks away to take a look at Tessa's home. After meeting our generous new friend a mere two days before, she offered to loan us her furniture that was stored in the Pyrenees. We only had to retrieve it.

Late that afternoon, I finally reached my mother. She sounded excellent which made me happy. I told her about the flat and its elevator that would be a big advantage for her, when she came to visit this summer. She could walk the few steps to the sea and sit and look out with her eyes and heart at the liquid blue Mediterranean. My family was always drawn to the water, and my Mother found joy and peace in gazing at a river, lake, or ocean. She would also love the spectacular yet frightening Costa Brava drive with me imploring Jim to keep his eyes on the wheel. We talked of my children and laughed and laughed. I had no idea this was the last conversation I would ever have with her.

My mother was the driver on many spectacular yet scary drives. She did not swoon with vertigo, and I don't know if she chanced a glance herself. But she made sure that we did while she drove our car.



posted by Beth on June 7, 2003 | View All Diary Entries
---

View All Diary Entries Here