Home

Chasing Matisse: The Book

Chasing Matisse Preview:
Cover and Prologue

Buy The Book

Book Signing Schedule

News & Reviews

James Morgan's Bio

Beth Arnold's Bio

Book's Press Release

Leaving Home

Introduction to the Journey

Travel Itinerary

Beth's Travel Diary

The Sketchpad

Photo Gallery

Travel Notes and
Recommendations for France, Corsica and Morocco

Chasing Matisse Newsletter

Contact Us



View All Diary Entries Here
June 2, 2003
Delicious Barcelona


Zipping across the border to Spain was a non-event. An appendage of connected glass-enclosed cubicles with highway lanes in between still stood at the boundary, but nobody was in them-or almost nobody. There were a few official-looking guards or police standing around, who waved when we drove through, looking like greeters at Wal-Mart. We smiled and gestured back. From our limited experience so far, the European Union is like driving from state to state in the U.S.

We were traveling from Carcassonne to Barcelona. Our son (my stepson), David and his wife, Erin, were vacationing there, and we were on our way to see them. Erin's sister, Joanna, is living in this coastal city of Catalonia, so we would have a brief but insider view and visit. We checked into the hotel and knocked on David's door. It was about 4:30 p.m., and he was snoozing in siesta. They'd consumed a late and huge but inexpensive Spanish lunch with a first course of paella, the second a big steak. I'd run into a grocery store on our way down and bought sandwiches. But that sounded really good.

The three of us strolled over to the Passeig de Gracia. The boulevards were wide and clean and the architecture and iron grillwork remarkable-not better but different than the French. We sat down at the outdoor café of Moncho's Restaurant to toast with a welcoming drink. The weather was a bit overcast and slightly chilly which prompted Jim and I to order Jack Daniels to warm us up a bit. The waiter brought out tall glasses with two big cubes of ice and the bottle. He proceeded to pour until the liquor covered the second cube. This was a much bigger drink than we had ever been served in France, and in the Barcelona according to David, this was the style and amount of which cocktails were always delivered. On top of that, they were cheap.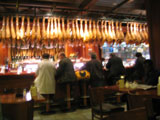 We could see in the door of the darkened eatery, and all the way down the bar, huge, cured hams were hanging. Platters mounded with a rich variety of tapas were placed on the counter underneath. This was also impressive, and I leaned over to Jim and whispered, "Man, the eating's going to be good here." Why, oh why, did I let those words escape from my lips? That innocent little comment will follow me all the days of my life-or Jim's. What can I say? I was hungry? Inquiring palates want to know? Jim alleged that it was more like I wanted to get up to the trough with all those pigs. He wasn't very gentlemanly.

After this introduction, we ambled back to our hotel. Erin had returned from shopping, and we all met in the bar for another welcoming tipple with one more bartender who had the same M.O.-drinks that were big and cheap. Okay once again, and from there, we actually did go to a tapas bar, but it wasn't like the one we'd seen before. The food here wasn't very important. The tapas were free which meant small and not hearty, probably just a little something for the patrons to nibble on before they completely fell out of their chairs (those Catalonians seem to have quite a tolerance for alcohol and late night parties). David was right about Barcelona-another bartender with hefty and easy on the pocket cocktails. We were in trouble. No food to speak of and lots of alcohol. By the time we got back to our hotel, we thought it was too late to find anything to eat. We clearly didn't know Barcelona.

The next morning we slept late, but the first thing on our minds when we woke up was victuals. We made a beeline to the enticing Moncho's and ordered up some breakfast-scrambled eggs with ham and Roquefort and a pork loin sandwich with cheese. Now this was the eating I was talking about, and I was right. It was really good and inexpensive. I'm guessing food and drink are half the price of France. Barcelona was growing on us.

Right up the street was a building that fascinated us. We'd admired it from afar and decided to check it out. It was La Pedrera, the masterpiece of architect Antoni Gaudi, who as far as I'm concerned is one of the greatest artists who ever lived. La Pedrera was designed as an apartment building with two circular courtyards. There are no straight walls in the building, and its lines, ironwork, and sculptured air ducts and chimneys are brilliant, whimsical, and extraordinary in every way.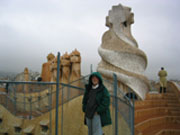 As Jim and I wandered through this sensual delight, we were completely blown away. We'd never seen anything like it. Touring this building is like being inside a piece of art, the artist's mind-living and breathing it in 3-D. This (along with David and Erin's experience) of the day before prompted us to take an open-air bus tour of the city. Our time was short. We had a lot to cram in, and we were dying to see more of Gaudi's work. Another stunning example is his unfinished church, Sagrada Familia-again gloriously breath-taking.

David said Barcelona reminded him of San Francisco. It is a beautiful city with mountains coming down to the sea and laid-back energy (except for the parties which aren't so frenetic but go on and on). I could see what he meant. It was also an intriguing city architecturally beyond the impact of Gaudi. As we rode around town on the bus, it seemed almost every apartment had a balcony to have a port for outdoors, sky, and sun.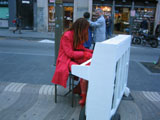 Most balconies were hung with a banner announcing the occupant's opposition to the war. We hadn't seen any display like this in France. We left the bus at the monument to Christopher Columbus at the bottom of La Rambla, the wide avenue that is lined with restaurants and cafés, vendors of caged birds, flower stalls, and shops. Musicians and mimes abound. We happened to catch a Charlie Chaplin and a guy in a red (devilish suit and makeup) singing Elvis.

That night David and Erin, Jim and I set out for Joanna's apartment. She was throwing a cocktail party that started at 9:00 p.m. which we discovered is early for Barcelona. Some don't start until midnight and last till 5 A.M. Joanna shares her apartment with two other women, and they have a lovely view of the city. We met American, British, Spanish, and French at the soirée that we (jokingly) felt we were too old to attend-starting so late and all. What we're finding is that the people we meet, the ones who've left their countries for adventure, to start a new life, to experience other cultures are an interesting lot indeed. They all have stories to tell, and we want to hear them. We like them, and they like us.

We left the party about 12:30 which was unbelievably early to the Barcelonians. We walked to a tapas bar close to our hotel for dinner, since we now knew that Barcelona didn't shut anytime early. We ordered an assortment of delicious tapas that included sirloin, cheese, roasted peppers stuffed with hake, shrimp and scallops on a skewer, and pork wrapped around dates. They were divine, and the Spanish cava (sparkling wine) was dry and refreshing. The place was still hopping when we left at 2.

The next morning David and Erin left to head back to Chicago before we even got up. We hired a cab to whisk us over to an apartment that an American woman and her young son lived in-big with a lovely terrace and fully equipped. She had been in Barcelona since last Fall and was spending the summer in Mallorca and had offered us a sublease. We thought about it. Spain is so much less expensive, and Barcelona is a city to spend more time in. But in the end, it didn't call us. France is our love for now, and Jim wants and needs to finish M. Matisse in the country that the great artist loved as well.

But what will happen later? I can deliciously say I don't know.


posted by Beth on June 2, 2003 | View All Diary Entries
---

View All Diary Entries Here