Home

Chasing Matisse: The Book

Chasing Matisse Preview:
Cover and Prologue

Buy The Book

Book Signing Schedule

News & Reviews

James Morgan's Bio

Beth Arnold's Bio

Book's Press Release

Leaving Home

Introduction to the Journey

Travel Itinerary

Beth's Travel Diary

The Sketchpad

Photo Gallery

Travel Notes and
Recommendations for France, Corsica and Morocco

Chasing Matisse Newsletter

Contact Us



View All Diary Entries Here
May 15, 2003
Ready To Be Healed


Today was quite a day-we had the chance to be healed. "I said healed, brothers and sisters," as the inimitable rooster Foghorn Leghorn might say. Having left St-Jean-de-Luz, we zipped along the main highway, but a short 25 kilometers away was Lourdes. It had nothing to do with Matisse, although he might well have made the trip himself. Who wouldn't want to be healed? And when would we have another opportunity like this-to wash ourselves in restorative waters that might take our troubles away? We had to go. We aren't Roman Catholics but who cares? I was happy to take a shot at my own miracle, and I'd been working on healing myself for years through various spiritual endeavors. I was ready, willing, and open to the experience. Jim veered to the exit.

The countryside was fresh and green with sheep and horses grazing in the pastures. The snow-capped peaks of the Pyrénées loomed above the town of about 15,000 that has 40,000 hotel rooms. What? I had no idea. Of course, Lourdes's fame is well-known, and I'd seen the Hollywood movie "St. Bernadette," with Jennifer Jones, more than once. But who knew it had 5,000,000 visitors a year, the most-visited Christian pilgrimage site in the world? Does this make it Mecca for the followers of Jesus?

The setting of the town is charming though Bernadette changed its ambience forever with her visions of the Virgin Mary and digging up the miraculous spring that soon became renowned for its healing powers. As we strode up the Esplanade des Processions, banners waved and life-sized cutouts of foreign and crippled people greeted us. Jim said it was like being at Disney World, and he certainly had a point with the castle-like Basilique du Rosaire with its enormous gold crown at the end of the walk.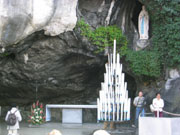 We circled around to the famous grotto where you can see the curative spring bubbling forth. There are also faucets lining a rock wall which easily delivers the hallowed waters quite conveniently. We washed our hands and dabbed our faces with it. I sprinkled it on my head and suggested Jim do the same hoping that even negative thought patterns that held us back could be mended. (Actually what I said was, maybe this will get some of that crap out of your head-just as I wished for my own.) Afterwards, we lit a huge candle for our loved ones and said prayers. I also bought a few smaller ones to take with us for our own private ritual. As you might imagine, souvenir shops line the narrow rues, and I bought plenty of them. I thought anyone of my heart or acquaintance could use a little healing too, and this seemed to be the mother lode of it.

Our drive across southwestern France from the Basque lands to the Languedoc-Roussillon was sublime with the Pyrénées on our right, castles and villages sprinkled in the lush countryside. Toulouse had been our destination, but there were no rooms at any inn (why?), and we opted for Carcassonne as a base.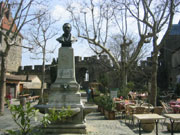 The wonder of Carcassonne is the enormous and beautifully restored fortress, the cité. We arrived in the dark and found the tight gateway of the Porte Narbonnaise, the only place a car can get through (and unless you're staying there, you park outside). It was quiet and the cobblestone streets tiny. We prefer getting into a town when we can still see, but we found our Best Western hotel, the Du Donjon, that I believe was once an orphanage. We had a nice big room looking onto the garden. We would be here three days which meant we had found a home again.

We began our evening stroll and discovered an adorable restaurant for dinner and indulged in that wonderful casserole of white beans, duck or goose, sausage, and maybe even pork called cassoulet which is native to the area We paired it with a good red wine, and earthy comfort was ours.

To our great dismay, we'd missed the Academy Awards the night before which I have to see at home. For the first time I can remember, I'd viewed none of the movies which still didn't take away my desire for the Oscar spectacle. I mean whose dresses were good, and whose were bad and the same for the speeches and the humor of the host. When we returned to our room, we found a shortened version on French TV. Even though it had been dubbed in French, it soothed our need, and we went to bed happy. We certainly felt healed.

The next day we made the trip back to the Midi-Pyrénées and Toulouse which is a city of 650,000 with 110,000 university students. It's known as La Ville Rose because of the millions of pink bricks that radiate from its buildings. As the sun changes positions in the sky, the color of Toulouse changes to pinks and oranges, roses, and reds. Toulouse is lively and the home of many industries. It was also the home of Madame Matisse and her family who were dear to her painter husband. We chose a café on the Place du Capitole for lunch and watched as the market closed down in the square and people hurriedly walked by or stopped and ordered a meal. We were there long enough to watch a demonstration in front of the city hall that seemed to be about homeless people-but I don't think we were included in their noisy appeal.

We spotted a Virgin Megastore, which definitely is a mecca for us with photo and computerish items, music, and such. We made the discovery that DVDs come with a choice of languages on them. I'm sure this is a fact most people know but not dinosaur-ish us. We purchased the third season of "The Sopranos" (despite my entreaty no one had sent it to us) and the fourth season of "Sex and The City." We'd never bought a DVD before, but the comfort of good television (or even mindless if it's the right show) watched on a laptop computer cannot be discounted when you're constantly moving. These would certainly cure our need for American TV.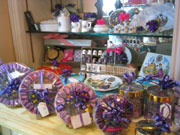 I'd read about the famous violet candy of Toulouse and had to try some which we found in a shop around the corner. I chit-chatted with the clerk who told me the elderly madame in the back wrapping huge chocolate fish in green foil was the proprietor and master chocolatier. The shop was a riot of colorful foils and candies in various spring-themed shapes.

Jim had begun the day a little cranky and revved up to an ornery growl with my distraction of candy and pop culture. After a spat, we split up-he to find the Matisse connections and me to wander the rues and peruse some shops. There were lots of nice ones and roaming with no purpose was dandy. We both needed some space. Jim will fill you in on the Toulouse Matisse, since I saw nothing but a part of the old city-a cornucopia of pink buildings that surely felt like home to him, that held an energy he responded to. I bought nothing after the DVDs and beautiful candied violets but had a lovely afternoon. I ended at a café for a coffee and read my novel. It was purely pleasurable.

We always ask ourselves the question: Could we live here? Toulouse was urban and lovely. I can see its appeal, but my answer is that if I'm going to live in a French city, it has to be Paris. She captured my heart many years ago.

Our drive back was enhanced by vineyards, villages, and chateaus. I read to Jim about the Cathar country and the Corbiere, as well as the village of Limoux with its carnival and its sparkling wine called Blanquette. Southwestern France was grabbing us, and we wanted to be grabbed.

That night and the next we ordered cassoulets again. White beans and goose, sausage and pork, bubbling hot and crispy brown on top with a bottle of red wine from the region was delicious and reassuring. We felt the country healing again and again.


posted by Beth on May 15, 2003 | View All Diary Entries
---

View All Diary Entries Here