Home

Chasing Matisse: The Book

Chasing Matisse Preview:
Cover and Prologue

Buy The Book

Book Signing Schedule

News & Reviews

James Morgan's Bio

Beth Arnold's Bio

Book's Press Release

Leaving Home

Introduction to the Journey

Travel Itinerary

Beth's Travel Diary

The Sketchpad

Photo Gallery

Travel Notes and
Recommendations for France, Corsica and Morocco

Chasing Matisse Newsletter

Contact Us



View All Diary Entries Here
May 6, 2003
La Côte Basque


We were headed toward La Côte Basque. Not via the talented barbs of Truman Capote writing about New York's elite separate society in one of their favorite lairs... but the Southern journey of Matisse and his hideaway on the independently-minded French and Spanish Basque coast. We were ready. From here on out, it would be sun and sea, and the promise of color and light excited both of us. It was the promise of illuminating ourselves.

It seems too simplistic to say that Jim and I are not the same, but it's fortunate that we have such similar tastes and desires. Usually art, architecture, and the pull of a place touch us in the same ways. Even with the differences in our personalities and the ways we sometimes drive each other crazy, there is common ground in what we respond to, in what captures us. We see something, and we may process it differently, but the same emotion is shaped.

One thing I'm learning from this trip, about art and the artists who created it, is that art is emotion. I didn't understand this in the same way before. I guess I'd never thought about it so intensely. I did know one of my own goals as a writer was for people to feel something from whatever I'd written. That was essential to me. Of course, there was emotion in art, but I didn't fully comprehend that that was the point. I thought there was an intellectual element that was full of intricacies-that historical period, technique, style, and so on made a difference in an educated perception. But now what I realize is that what makes art truly great is the feeling an artist designs. This is the element that gives a piece cohesiveness, life, and energy. Whether with words, clay, or paint, his or her art or creation is emotion unveiled.

This is what I was mulling over when we stopped in Biarritz on our way to St-Jean-de-Luz. I'd always heard about the glitz and glamour of this Côte Basque resort but had never been to this part of France. The Empress Eugénie and Napoleon III put the fishing village on the map in the 1850's, building a palace for their summer court on the sea. The beautiful people of that era and the next three-quarters of a century followed them. The noble, rich, and famous all came, and I suspect plenty still do, but the trendy coterie of stars and affluent stargazers moved South in the 1920's to Cannes and Nice.

We were happy for our little tour of the legendary resort. Biarritz is built on the hillside with cliffs jutting down to the sea but also is blessed with a wide sandy beach.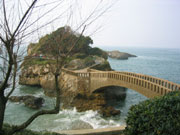 It still exudes decided appeal with a bit of faded elegance. (I didn't know Biarritz is the "retirement capital of France," and so must be quite a rocking place for the older set.) Waves crashing on rocks is inevitably stunning, and this was the sound that pumped into our bodies as we strolled above the surf and crossed a little bridge to climb the stairways of the island boulders and gaze across the Atlantic to an expanse of beach (and Hôtel du Palais where the palace once stood) on one side and the Rocher de la Vierge on the other. A statue of the Virgin Mary stands looking out to sea, and a group of terrible musicians played outside the tunnel below her. She must've shut her ears.

It was only a few kilometers from Biarritz to St-Jean-de-Luz, which also must be stuffed with people in the summer though not as jammed as the former. We hadn't made a hotel reservation. Big mistake. The Season was about to be in gear. The weather was bright and sunny, and vacationers were flocking to the beach like mad.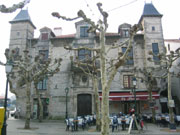 We lucked out and found a room at the Hotel Helianththal, which was pleasurably modern though not our usual style, and we relished every moment there. Our room was luscious with a terrace overlooking the garden, and the bathroom and its products were faboo. The hotel has a spa that looks onto the beach and sea that I would so love to sign up for another time.

That night we strolled over to a restaurant we'd spotted and savored amazing Serrano ham (the beginning of Basque world for us) and fish. Okay, this is very strange turn of events, but I who love fish and always looked forward to going to the beach because I only ate fresh seafood am now finding it weird. I've never liked bones. (As a child, I remember being afraid I'd get a bone stuck in my throat.) And deliver me from fish heads. I mean I don't want to see a head of anything when I eat it. And ever since I've been going to the fish markets and seeing these sea creatures intact with teeth and eyes.I don't know...how embarrassing.I've gotten squeamish and don't want to see peculiar or creepy body parts on my plate. Fillets are fine. Oysters are delicious. Nothing too fishy-tasting is okay, but suddenly fish is iffy. The head on a shrimp with its beady black eyes staring blankly is deadly disconcerting. I haven't figured out what this means but am studying the issue.

After dinner, I saw a tray of enticing after-dinner drinks- cherry red and served in snifters with ice--delivered to a table full of men. With my usual insouciance, I said to the waiter, "What is that stuff they're drinking?" Thus, we became enamored with the Spanish Patxaran. Oh, it was delicious.

St-Jean-de-Luz is as pretty as its name, with avenues lined with plane trees, a promenade by the sea, a sandy beach, and Basque architecture which mixes Spanish and French details. It is white, light, and silvery with splashes of Southern color and has sunny energy but a relaxed feel. As in Brittany, all the road signs have two names on them-French, and in this region, Basque. The people are proud of their heritage and of their flavorful food.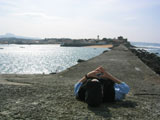 Across the bay protected by a seawall is Ciboure, where M. Matisse holed up for a while-which Jim will tell about in the book. Ciboure is quieter than St-Jean and smaller. We only saw one hotel (I'm sure there are more). We'd driven the few minutes over for lunch and found a row of restaurants with terraces that look across the moored boats and blue to St-Jean. A tethered fleet of young student sailors were being pulled behind their teacher in a bigger craft with motor-they looked like a row of baby ducks-while others were boating and sailing. I ordered a salad with the best scallops I've ever eaten at a restaurant. Old photos of the coast lined the walls inside the dining room. Jim had a platter of Fruits de Mer with special tools to eat the various sized crustaceans. (Bah seabug!) We drank goblets of Sangria which I never thought I liked but yes I do. Jim went back back to sketch there later that afternoon. The seawall is high and big-a great spot for strolling with fine views of the blue, blue harbor and St. Jean.

On the Basque food trail, we found La Ruelle for dinner, which was crowded with locals and visitors, and smelled like garlic, good olive oil, meat and fish. A raucous table of patrons were having so much fun that we joined in, while a minstrel came and sang mostly American folk songs. It all felt festive yet cozy, vibrant with the food and smells and cheer. I ordered calamari cooked with olive oil and tons of garlic and was brown and bubbling. (In my odd fish malady, this was okay.-even wonderful in small amounts.)

The next day we switched our devotion to Hemingway and drove the 30 kilometers or so to San Sebastien, Spain. It was so close and the romantic pull of his The Sun Also Rises wouldn't let us resist it. Neither of us had ever been to Spain except to stop at the Madrid airport, and San Sebastien called. (I'm sure we heard the phone ring.) It was not a sleepy village as we imagined, but a city. On this Sunday afternoon we parked and promenaded along the harbor with the Spanish, as is their nature and habit, then caught the end of an orchestral concert in a gazebo on the end of a grand boulevard. We were starving and stopped at a café for lunch-tumblers of refreshing Sangria and mouth-watering tapas of various combinations of bread, anchovies, mayo, ham, roasted peppers, and croquettas which basically resembled mashed potato hush puppies peppered with bits of ham. We lapped them up.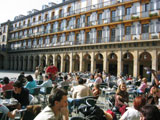 As we promenaded ourselves along the streets and squares of San Sebastien, we looked through the doorways of restaurants and bars. Platters of tapas lined up on the counters scented the air with their savory aromas. The crush of lunch had ended with cigarette butts stomped on the floors. But people still sat in the afternoon sun eating and drinking, while others performed their social sauntering. We stumbled upon a trio of jazz musicians-including an accordionist-playing for a crowd. Jim sketched the scene while I poked around the colossal and attractive Constitutuion Square.

For me, there was no trace of Hemingway except perhaps in the spirit of a Spanish Sunday afternoon in the separatist Basque Country. I suppose you could say that "La Côte Basque" society that Mr. Capote captured in his own inimitable way was just as separatist as the Spanish coast it was named for. And the modern flocks of beautiful people who adored and then spurned him were just as fickle as the glamorous who moved on to the Côte d'Azur.


posted by Beth on May 6, 2003 | View All Diary Entries
---

View All Diary Entries Here