Home

Chasing Matisse: The Book

Chasing Matisse Preview:
Cover and Prologue

Buy The Book

Book Signing Schedule

News & Reviews

James Morgan's Bio

Beth Arnold's Bio

Book's Press Release

Leaving Home

Introduction to the Journey

Travel Itinerary

Beth's Travel Diary

The Sketchpad

Photo Gallery

Travel Notes and
Recommendations for France, Corsica and Morocco

Chasing Matisse Newsletter

Contact Us



View All Diary Entries Here
April 30, 2003
Leaving and Coming Home

"What time does the museum open?" I nonchalantly lobbed the question to our hotel clerk. "My husband is writing a book called Chasing Matisse, and we're going to see the Matisse exhibit. "It's Tuesday," she said. "All the museums are closed."

Quelle damage! (I still don't know what that means if anything at all.) M. Bubbah and Mme. Bubbette understand this, but they'd forgotten-again. How does this happen to us? Is it because we don't know what day of the week it is? Sometimes we don't. Or are we just forgetful? With all the hubbub of leaving Auray, this critical bit of cultural knowledge hadn't even crossed our thought waves. Now we were on a timetable, a schedule to keep. Should we go on as planned or stay to see it?

We left it to the Fates-sort of. There was no room at our inn unless there was a cancellation. We decided that if something opened up we would stay. If not, c'est la vie. We began a walking tour of Nantes to view the grand houses that money from the slave trade had built. Decorative elements of the facades echo faraway places and the seas that carried the African people away from their homes.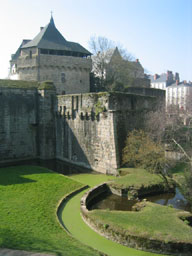 We followed the route to the massive, incredible Cathédrale St-Pierre-et-St-Paul and were awed by the white stone and flamboyant work, the elegant black and white marble tombs of Anne of Brittany's parents-her father, Francois II, and her mother, Marguerite. It was filled with light and good energy that Anne and her parents must have had. Then we strolled on to their enormous castle, the Château des Ducs de Bretagne, which was surrounded by a moat covered in the loveliest chartreuse scum. Ducks were swimming in it and bobbing for food. The Chateau itself was impressive-though closed as well. What a snafu.

Many people had told us Nantes was a beautiful city, and it was true. We were enjoying its ambience, but what to do? Our hotel did not have a vacancy, and we indecisively wavered. Wouldn't it be a slight not to see this exhibit which we had come for? We left it to the Fates again-sort of-and walked up the street to the Hotel de France (just down from the delightful brasserie Le Cigale) which we'd checked out the night before and thought was cool. The scale of its lobby, rich textures, and moderne bar had appealed to us. The directrice scanned her book, peered over her glasses, and explained that they were full.

This was not the answer I wanted to hear. "Please make sure," I urged her with a fair amount of sucking up. The Fates took pity, and she found one-a big, apricot Louis XVI room. As soon as I saw it, I checked us in (without even leaving a credit card number-just our good names). Earlier that morning Jim had told me I had "sick breath." A cold was trying to insinuate itself in my body, so I laid down on the big bed, turned on the television, and went to sleep. When I woke up, the BBC version of "The Secret Garden" was playing, which was one of my all-time favorite childhood books. The production was dreamy. (I love the BBC.) Besides, a nice hotel room with a good movie is lavishly comforting for me.

Our usual rhythm of traveling is this: Arrive at destination in late afternoon. After being lost for a few turns around town (which instigates cursing and yelling), find hotel and unload. Relief is now coming, so relax and freshen-up to ward off any feeling of grunge and nastiness so as not to frighten ourselves or any potential acquaintances or friends. Take a nighttime amble around the centre ville (which is a great time to take a look at much of what we want to see anyway) when all the sites are beautifully lit, and takes some of the pressure off the next day. Find a place for dinner. Enjoy. Wander around some more. Now we have the "feel" of wherever we happen to be and aren't lost in some nameless city. We love it.

After the movie, we went for a simple dinner and a stroll. When we returned, I had a missive from my old friend Steve who wrote with great hilarity about how terribly ill he'd been-the mark of a good writer which he is. I felt bad for him (another stress related illness I believe) but couldn't stop laughing with his riotous descriptions of the horror he experienced. Sorry, Steve.

The next morning Jim went to the exhibit-which was okay but not great-and I stayed in bed. My cold was full-blown, and I was taking medicine to try and head off any of the symptoms I could. But we were already behind in our itinerary by a day, on our way to Bordeaux to see some dear French friends of some buddies of ours in Little Rock. Veronique and Eric had extended a kind invitation to stay with them, and we were looking forward to it. We arrived at their lovely home in late afternoon. Wow, what a maison-huge and filled with antique and modern elements and an enormous, inviting garden.

Veronique is a beautiful woman with great spirit and sharp business mind, and Eric an aviation engineer and committed sailor. They have three darling boys-Guilliame, Pierre, and Thibault-who are handsome, dear, precocious, and everything being boys implies. This family also has adventurous hearts and the need and desire to be in different cultures. They'd lived in Little Rock for three years and loved it. The irony for us was that they want to return there, while we have chosen to leave. But we talked Arkansas with understanding and appreciation.

The next day we drove from Bordeaux to the seaside resort of Arcachon where Matisse had once come. The day was sunny perfection even with the brisk, chilly wind by the Atlantic Ocean. It felt wonderful to be by the sea, and we walked along the promenade and drove along the seaside that curves along a fine, sandy beach.

We discovered a lovely restaurant on a quiet stretch of beach bordering the Parc Pereire, a hidden jewel that many people don't venture far enough to find. We ordered a dry white wine and oysters. All were sublime in this serene setting with people quietly walking along the promenade or lying on the grassy park. In Arcachon, there are neighborhoods of resort houses that are referred to by the seasons. We drove through them all. It seems that after Matisse left the darker north of his boyhood he only ventured to places of beauty, sun, and ocean. What a life he found through his vision and painting, his creation of art. What a vision for us to experience. For me, the sea is always healing just as I think it must have been for him.

We returned to Bordeaux, and Jim napped in the large bedroom which was our brief home, while I escaped into another inviting chambre covered in wallpaper of tiny flowers in hues of blues, roses, periwinkles and pinks. I love big rooms, but I often prefer cozy and pretty smaller ones if they're well-done. What is it about them? I think a happy little space (which this was) often lends itself to warmth and a feeling of safeness. When I've found these rooms (there was one in a house in Morocco), they have been mine alone to take and own-big enough to feel and be myself and small enough to find my own intimacy. And in this case, blow my nose.

The next morning we walked toward the old city. The sidewalk was narrow, and an old man with white hair and a plaid cap was slowly ambling up the concrete path. As I stepped out of his way, he stopped. "Madame, you are trés magnifique," he complimented me in lovely French. Ooh, la la, this gentleman made my day, week, maybe even month. He was sublimely gracious in his admiration. I said, "Merci, merci."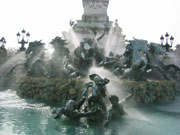 We hopped a bus to the Esplanade des Quincones and its Monument aux Girondins. What a fabulous fountain with its chariots of mer horses and allegories to vices and virtues-as is life itself! This sculpture was genuinely thoughtful in its beauty and creation just like the sweet man. A huge carnival covered the enormous square. We didn't know why and forgot to ask. But it seemed that the whole of Bordeaux was under construction that filled our eyes and ears, and after lunching at the attractive Place Gambetta, we decided to move on. Perhaps one day we'll come back to Bordeaux and tour the famous vineyards.

It was our pleasure to spend time with Eric and Veronique who added an ironic verse to our odyssey. Little Rock to France, and France to Little Rock-one person's leaving is another's coming home. The search continues for us all.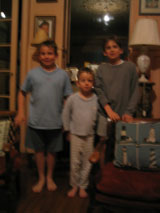 posted by Beth on April 30, 2003 | View All Diary Entries
---

View All Diary Entries Here