Home

Chasing Matisse: The Book

Chasing Matisse Preview:
Cover and Prologue

Buy The Book

Book Signing Schedule

News & Reviews

James Morgan's Bio

Beth Arnold's Bio

Book's Press Release

Leaving Home

Introduction to the Journey

Travel Itinerary

Beth's Travel Diary

The Sketchpad

Photo Gallery

Travel Notes and
Recommendations for France, Corsica and Morocco

Chasing Matisse Newsletter

Contact Us



View All Diary Entries Here
February 14, 2003
The Spirits of Belle Ile
This was the day Jim has been waiting for. We are going to Belle-Ile-en-Mer, an island in the Atlantic off the Brittany Coast, which was important for Matisse's artistic development. Jim has been frothing at the mouth to get here, and to make it even better, it's his birthday. He always hates his birthday-but not this one. We're going to Belle Ile.

Everyone who knows the island has told us how beautiful it is, another French venue I'd never heard of until Monsieur Matisse introduced us indirectly of course. The day couldn't be more perfect. The sky is clear and blue, and we drive onto the ferry at Quiberon, which is a seasidey town that reminds me of Le Havre (without all the huge ships). I don't care how cold it is. I have to be on the top deck to look out at the sea and feel the ocean breeze. I love boats and ships, being on the water. I think it's a great way to see a place, to experience the cities or towns where a body of water is the eau de vie-whether it's the Seine in Paris or San Francisco Bay or Hudson River. We bundled up. Jim was like a little boy, who happened to be wearing black suede Ferragamos instead of his Timberland boots. His feet were cold. Some people moved down a deck but not us.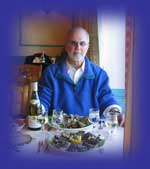 As the ferry pulled into the capital of Belle Ile, Le Palais, the Citadelle Vauban loomed in front of us. You can't miss it. Its massive walls have guarded Belle Ile for centuries. There were boats in the harbor, and like other French ports, the quay was lined with hotels and eateries. We couldn't check into our inn, so we found a restaurant with a fantastic view of the harbor and ordered a dozen oysters each with a bottle of crisp Muscadet. Our next course was more soupe de poissons. (I've got a theme going with that soup. It's warming and delicious, but the croutons and cheese and rouille make it extra good.) Crème caramel for dessert. What a birthday lunch! I couldn't think of anywhere in the world I'd rather be. More importantly, since he was the birthday boy, neither could Jim. He is on a smooth groove.


We realized we were right by Matisse's address in Le Palais and looked it up. The building was in front of us-a patisserie on the ground floor where Matisse resided in the attic. (He and Madame Matisse lived in lots of attics until the money started rolling in.) Score! It was a very heady day.


Since we were so close, we decided to check out the citadel. Monks first built a monastery on this rocky point in the 11th Century. Later fortifying efforts were begun, but after Belle Ile had been attacked so many times by the British and Dutch, Louis XIV sent the engineer Vauban there in the 17th Century to plan the island's defense. This fort is so huge and high and thick. It seems like it could live and breathe and probably does. We read that Alexander Dumas had spent time in Belle Ile, and when you see this citadel, you know where the Count of Monte Cristo came from. It is so Monte Cristo. The German Army occupied it during World War II, and it was rather creepy to walk through-which adds to the intrigue. From here, the view of the sea and Le Palais are tremendous, and the museum is full of interesting tidbits. My favorite item was (if my limited reading of French is accurate) the lid of one of Sarah Bernhardt's hatboxes. The green areas are pristine with palm trees and succulent plants as big as dining room tables.

Well, we had to have a nap after that. Those bottles of wine at lunch wear you out, so we checked into our peaceful inn, Le Clos Fleurie.

Alice had recommended a restaurant in Sauzon called La Maison. She wouldn't give us details but said we'd love it. Sauzon is only a few kilometers from Le Palais, and it didn't take long to get there. We walked into the bar, and at the opposite end of the room was a cozy conversation area with a fireplace. People were drinking aperitifs in front of a wood fire. Oh-kay. Phillipe, the owner, took us to a table and introduced us to Johey, who is the wife of his chef and is from Baltimore, U.S.A. She and her French husband, Stephane moved to Belle Ile in October. Johey is a chef too and will be cooking for Phillipe in another restaurant he's opening. They are a young, attractive couple who have made this island in the Atlantic Ocean their home.

La Maison is immediately charming, but it takes a while to notice all the funny details. I'm not going to give the secrets away to spoil anyone's surprise but let's just say there were mousetraps that Jim first thought were for catching vermin. His astonishment was a condiment to my dinner. We had our own aperitif-yet another Kir, this made with Cassis and a sparkling Muscadet-while looking over the eclectic and enticing menu. I ordered a Thai crab bisque, while Jim had Corsican charcuterie. We shared an order of stuffed crabs. All the seafood is caught in the waters off Belle Ile, which greatly impresses Johey who had a restaurant in Baltimore and said fresh, local seafood is almost impossible to find. The dinner was smashing. Afterwards, we had a drink with Johey and Stephane in the bar as some of the locals sang French songs. This was a festive birthday. We were already hooked on Belle Ile and La Maison, another place we wanted to be a part of-and felt that we were.

Breakfast the next morning came a little early after our celebration, but it was in a bright room with lots of windows and art displayed all round. Scenes of Belle Ile are on the walls of every restaurant. The artistic legacy of the island is recognized and honored. So is the tradition of croissants. I love croissants and jam, but they're the last thing I need to be eating. Any guesses to what I did?



We got in our Peugeot and drove first to Sauzon, which as Jim would say, is charming as all get out. The beautiful harbor, boats, cottages all looked ideal. I would like to stay here sometime at a small hotel where a fairy godmother surely must live. That's how I see it. From there we went to the famous La Pointe des Poulains, which surpassed the oohs and ahs we'd been told about it. Gigantic boulders of rock with the stormy waves crashing into them, a huge green bluff with a lighthouse the only vertical line on its top, the rock infused with quartz. They looked like enormous oyster shells. We were stunned by the majesty. There was a fort across an inlet from us, and I suggested to Jim that we buy it and move in. That's how I see La Pointe des Poulains.

We drove on to another natural phenomenon, L'Apothicairerie, where Matisse once stayed in a hotel that is no longer standing. The same stormy seas crashed and sprayed on walls of rocks this time, more like the bluffs of Étretat. There is a path that goes around the whole island. You can hike all or part of it, but you can see it clearly here. It calls your attention and prays you walk this walk. It reminds me of the Cinque Terre in Italy-but better. (I don't think there would be so many tourists.) From there, we followed the signs to Kervilahouen to locate the house where Matisse once rented a room. We had a picture, and I spotted it immediately-which was thrilling to discover this known/unknown quantity. How can there be more exhilaration, but there is. This island is wild and wonderful and filled with spirits, I believe, happy ones who caught their freedom, sea, sky, and earth. In turn, they delivered it to us with crashing waves and golden vistas with pink light and pixie dances of sun and rain.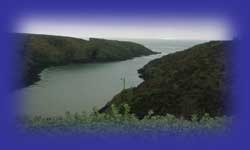 Port Goulphar is close by, and this is the spot where wild Australian painter John Peter Russell had a big house filled with his children, wife, and parties galore. Matisse painted with Russell and is a great story but Jim's to tell. I will only say that there are two excellent hotels here (one with a spa) that command another dazzling view of island and sea. I want to stay there too. I want to come back to Belle Ile many times. We would love to be here for the Summer, Winter, Fall or Spring.

Finally, we drove to Locmaria on the other end of the island. Pheasants were grazing in the field with the sheep and lambs. It's very Celtic here, along with lots of white vacation homes that have been built throughout the island. We heard there were stories of sorcery being practiced at some time in history.

More intrigue and mystery, more spirits floating through time and space to give this island its fairy-tale feel.



posted by Beth on February 14, 2003 | View All Diary Entries
---

View All Diary Entries Here