Home

Chasing Matisse: The Book

Chasing Matisse Preview:
Cover and Prologue

Buy The Book

Book Signing Schedule

News & Reviews

James Morgan's Bio

Beth Arnold's Bio

Book's Press Release

Leaving Home

Introduction to the Journey

Travel Itinerary

Beth's Travel Diary

The Sketchpad

Photo Gallery

Travel Notes and
Recommendations for France, Corsica and Morocco

Chasing Matisse Newsletter

Contact Us



View All Diary Entries Here
February 6, 2003
Madame Mickels

After a dreamy night on that luscious bed, we had breakfast delivered to our room. It came with an orchid-purple splashed on white, perfect. Jim sketched his little heart out in that room he loved it so. Now this is the Matisse I wanted to find. Jim is happy, happy, happy, when his art is flowing. Two aspects of Matisse's work that we both love are all the patterns and colors in the captured space. This room had that kind of detail and beauty, and Jim was inspired by it. He, like his hero, likes to paint interiors. If Jim gained about 80 pounds, he'd even look like Matisse. (I am not on drugs, not that kind anyway.)



I worked. I bathed. I dressed, so Frida and I could frolic in the garden before the appointment with Madame Mickels. It was gray and misting, but we didn't care. It was a garden of delight with tiny hidden vistas of cherubs and handsome carved benches and what I'm going to call a French pagoda! We could see an easel through the glass, and Frida and Jim argued over who would get it, if it was our studio. What a place to paint. I had to intervene.



Jim and I wandered through the salon and dining room of the L'Ecrin which is a potpourri of objects d'art from France and the Far East. I'd love to meet the owner and hear about their provenance. Jim had a conversation with Danielle and reported that Madame would be here at noon to meet us. Having heard part of their interchange (and my superior knowledge of the French language), I was suspicious of this message he brought back. It really didn't make sense, but we waited for a while. Jim amused himself by sketching, as I was snooping around. As time went on, I decided to speak up. I suggested he may not have understood what she had said and better sort it out, so we could have a little lunch. He went off to find Danielle. (Aha, what I thought had happened, had.) Danielle asked Jim if he had an appointment with Madame, and he said, yes. She then inquired of its time. Monsieur Bubbah thought she was requesting the time of day, and he responded, 12:00 P.M. We waited for the Madame who would not come, until this mix-up got unmixed. Then Danielle called Madame Mickels, and we set an appointment at her house later on.

We didn't try any of the fancier restaurants in Honfleur. Frankly, we were ready for more simple food in relaxed surroundings, no fussiness. We drove down to the harbor and chose, of the few restaurants open, L'Ancrage. A green salad with tomatoes and our first soupe de poisson (fish soup). I love soups and stews, big pots of things. We got a steaming bowl with croutons, grated cheese, and rouille in bowls. This is a ritual I now love. First, the croutons sprinkled on top, cheese on them, and rouille in dollops. Yum.



We used Danielle's directions to find St. Gatien, and Madame Mickels stepped out of her little car with flaming red hair, a band wrapped around it, wearing jodhpurs, a sweater adorned with pearls, and tall boots. Her big dog waited in the back seat. Madame is quite beautiful, a tiny woman who carries herself gracefully. We followed her down a narrow road to her house in the country.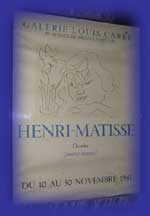 Janie Mickels met Matisse in 1940. She'd heard him speak on the radio, cheering the young people of France to keep working and to have courage. (This, of course, was during the war.) Jim will tell the story of how they actually met and give the scoop on what Madame revealed to us about her revered friend and mentor, but the bottom line is that she became Matisse's model (of many paintings we have seen) and his art student. She had stacks of books, letters, articles, and pictures-a treasure trove of materials. They remained friends until his death in 1954.



We pored over books with drawings and paintings Matisse made of this charming Madame. She is an accomplished artist herself with exhibitions in Paris, now in Honfleur. (She was also a great friend of Maurice Chevalier and showed us a wonderful picture of them together.) I took photos. We talked and talked. It was a successful afternoon, and we kissed goodbye. Jim and I were elated! That night we went down to the harbor again and had a simple dinner, the plat du jour-coq au vin-at La Maison Bleue, a comfortable local hangout.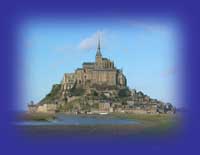 The next day we packed up the car-again. It's the nomad way and seems to be getting easier. This time there weren't so many flights of stairs, and we're learning better about what to take in. This drive was a joy for us, one we'd made with Blair and Bret many times, one that we all loved-to Mont St. Michel. We knew we'd be driving by it, and just 20 kilometers from the house where we stayed in 1998. Just about everywhere we went in Normandy and Brittany would take us by this phenomenal site. It was a trip down memory lane.

We hadn't intended to go there, and we decided not to drive by the house where we stayed with cows in the pasture next to us, where in the middle of the night there were weird sounds and a huge, bright light whirling round. Jim and I decided it must be aliens that had landed, and left Blair and Bret asleep to go find them (and potentially be spirited away for a future episode of The X Files). More weird than aliens, it was a searchlight in the tiny hamlet we were close to. A bicycle race was coming through that morning, and it was a bona fide celebration that included Hollywood glamour-in bucolic Normandy.



Anyway, we couldn't stay away from Mont St. Michel. You can see it from miles away rising out of the sea. We made the turn down the little road. This time there weren't lines of cars and a crowded parking lot, and the moules-frites stands were closed along the Emerald Coast with its windmills made into houses-round and standing tall-funny little abodes. We arrived in oyster-mecca Cancale. We've been here several times, and the tide has never been in. This is notable, because it leaves the anchored boats sitting on the sand. There was only one oyster seller at the famous market, and restaurants and hotels were shut, resting or repairing for the coming season. We didn't get the oysters we so longed for and drove on.

We stopped at Dinan and checked into a good hotel. The owner helped me with my French. Jim was determined to find the little antique shop where there once had been a set of tiny silver cups that I adored. I loved them and wanted them but didn't need them, didn't need to buy them. We walked away. I guess over the years he's thought about it, was sorry in some way. I don't know and didn't delve too deeply, but it was apparent that he had a mission. To get a second chance? At what?

We found the square where he, Blair, and Bret had ice cream, and he knew exactly where to go. We walked into the shop and looked around. I hate to admit this, but I had a secret hope the cups would miraculously still be sitting in the case, and we would foolishly have to buy them this time as if we were Scot and Zelda Fitzgerald (I want to be Scot), even though we certainly didn't require a set of tiny silver cups to haul around France, so we could offer drinks to the hotel maids and clerks. But this isn't some fairy tale.

Of course, they weren't. But we did each find a little cup, and I stuffed them in my purse, after buying them, of course.

We etched new memories with no regret.



posted by Beth on February 6, 2003 | View All Diary Entries
---

View All Diary Entries Here