Home

Chasing Matisse: The Book

Chasing Matisse Preview:
Cover and Prologue

Buy The Book

Book Signing Schedule

News & Reviews

James Morgan's Bio

Beth Arnold's Bio

Book's Press Release

Leaving Home

Introduction to the Journey

Travel Itinerary

Beth's Travel Diary

The Sketchpad

Photo Gallery

Travel Notes and
Recommendations for France, Corsica and Morocco

Chasing Matisse Newsletter

Contact Us



View All Diary Entries Here
January 30, 2003
Cliffs and Sea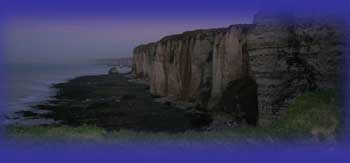 It's really hilarious seeing The Simpsons in France-Homer and Marge speaking French with Bart and Lisa, and better than us. As irony would have it, we saw an episode in Rouen, where they somehow go back in time to 15th Century France. (Since they were speaking Francais, I didn't quite get how.) But Lisa becomes Joan of Arc. How American to cast foreign characters with English speakers, even if it is their own show and a cartoon.

French television pretty much sucks. Part of the reason is there are so many old American sit-coms dubbed and rerun. I didn't watch them when they were new and I was in the States, much less now-The Cosbys, the Fresh Prince of Bel-Air-no offense to Bill Cosby and Will Smith. And some American soap opera, that I don't know the name of, comes on first thing in the morning. Then there are the bad game shows. Who watches these things? And I thought the U.S. was inundated with talking heads, but France takes the cake! (It must be the French love of confections. Surely Marie Antoinette was sorry she made that flip statement.) You can't channel-surf without running by endless groups of people sitting around tables and droning on and on.

There was a movie channel we've seen in a couple of places that was good. I always love a movie-even if it's bad-well, maybe if it's not too bad. Then there was the sex channel we had at one hotel. Men and women in various configurations going at it all day long. But I think these were bad American productions that had been dubbed as well. The silicone in those women's breasts looked like they would soon explode.

Oh, please, someone send me the third season of The Sopranos on DVD or an episode of Will and Grace. Let me hear Karen and Jack deliver their barbs! I'd love some new episodes of Trading Spaces and While You Were Out.

Back to Rouen. The next day we strolled to the Musée Beaux Arts, which, by the way, was a very well-hung museum. They have a collection worth seeing, with lovely, open rooms. In the center of the complex, there is a courtyard with a huge celebratory painting of gentlemen artists and ladies at a fete. Very fete-ish indeed. There were also three panels by Raoul Dufy-views of the Seine, including Rouen, that captured the river seductively. Our main interest here was the Impressionist collection, and it was not disappointing.



We decided to stay for lunch before we left. But first, Frida and I got some sun on the hotel terrace and enjoyed the cozy salon. I chose a vegetable soup and brandade, which is salt cod that is soaked and puréed, mixed with mashed potatoes, milk, olive, garlic-sometimes covered with cheese. I've ordered it several times on this trip. I'm searching for the best, and so far it was Vagenende's (version with a fish filet) in Paris. Although Scott McGehee's brandade in Little Rock beats any I've tried here yet. Jim ordered baked eggs with spinach and then spinach quiche.

Then we were off to Étretat, on the Normandy coast, listening to our French CD in the car, which was good but almost put us to sleep after eating that lunch. The most interesting village we passed through on the way was Fécamp, which has been a fishing port for centuries. It's built on a hillside leading down to the harbor on the British Channel. Fishermen sailed first on schooners, and now trawlers, from here to Newfoundland to catch the cod in cold, fog, and bad seas. As is the case in such towns, where men have made their livings from the deep, many never returned-lost in icy waters. It's one of those ways of life that is fascinating to me-the mysteries of oceans and the people who live by and from them. We liked the way it looked. I'd like to have lunch there, looking out at the harbor, some other day.



We drove into Étretat and right to the Dormy House hotel. It seemed deserted but was open, and we checked in. The sea was forever in front of us, the famous cliffs (which I knew nothing about before Matisse) on either side with the village nestled in between. Our room was large and cheerful with two sets of French doors opening onto a balcony-and an amazing and perfect view of the sea, the cliff, the little church perched on top of it. This was a room where Jim wanted to paint.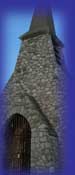 We walked down to the village and up the steps and path to the church. What a haul. But when we reached the thick, green crest, we were at the top of the world (at least along this coast). The cliffs go on as far as you can see, sheer walls of rock in colors that remind me of a paler Roussillion (an ochre village we love in Provence) with sharp drop-offs to the ocean below. They are simply stunning. There are steps down through the crags and then back up, which we climbed with glee (and heaving breaths). The sky turned pink for a glorious sunset on the horizon.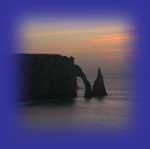 We've noticed pink in the light and sky here almost every day. You see this in paintings many times, and it is not exaggerated. With this space and beauty and light in the sky, it becomes obvious why so many artists and writers came here to work.

We stopped in a small grocery to buy a bottle of Calvados, an apple brandy I became quite fond of the last time we were in Normandy. We had driven up to a farmhouse where a snarly dog greeted us. An old French man, himself a picture postcard of Normandy, took us into his cellar to taste several of his bottles. We bought a delicious ten year old. It's possible to follow the Calvados trail (or foie gras or cheese), and the small makers will give you samples of their products. It would be an entertaining, boozy quest to visit the small farms and makers of this elixer, but we don't have time. Jim wasn't a Calvados convert then, but he is now.

The next day Jim went out to sketch on the cliff, and I wrote in our room with the spectacular view, breezes blowing through the open door. We lunched on Port Salut and Roquefort, sausage, ham, and toasts. That afternoon Jim set up his easel and painted. A huge yellow cat lightly stepped in from the balcony to watch him. It has been fine for us to be working in such close quarters-which is a miracle. I'm like a radio antennae that picks up sensory information from everyone around me-especially those I love. Sometimes this energy is so intense that I can't feel myself, or identify whose craziness it is-my own or whoever else's. Jim is moody, tripping through his head and emotions with noisy tap shoes, which can throw me for a loop. I've learned how to handle this better the last few years and with help from my Wise Women friends. I'm understanding how to take care of myself, how to let go.

That night we had a quiet dinner at the hotel-Brittany oysters and sole. The restaurant has the same killer view, is attractive and more formal than any other one we've seen. We were the loudest ones there, chortling over a private joke. Jim refers to himself (I do it too) as "Pussy Boy." I gave him the name when we were at an event full of Arkansas farmers wearing boots and such. He had on his fancy dress shoes and a suit, looking totally not farmeresque. I told him they probably thought he was a "Pussy Boy." We've been laughing about it ever since and decided we needed to do a "Pussy Boy" book, thought it a brilliant idea. Of course, we'd had a bottle of wine.

After dinner, we went to the bar to finish our last glass. An elegant French man with a head of white hair followed us in. I wanted to speak to him, invite him to join us, but didn't want to overstep my bounds.

I doubt that was ever a thought that any of the fishermen from Fécamp had, when they sailed into the sea.



posted by Beth on January 30, 2003 | View All Diary Entries
---

View All Diary Entries Here