Home

Chasing Matisse: The Book

Chasing Matisse Preview:
Cover and Prologue

Buy The Book

Book Signing Schedule

News & Reviews

James Morgan's Bio

Beth Arnold's Bio

Book's Press Release

Leaving Home

Introduction to the Journey

Travel Itinerary

Beth's Travel Diary

The Sketchpad

Photo Gallery

Travel Notes and
Recommendations for France, Corsica and Morocco

Chasing Matisse Newsletter

Contact Us



View All Diary Entries Here
January 29, 2003
Frida Reveals Herself


Jim went out to sketch in the land of Matisse's boyhood. Good. He needed some time by himself, connecting to his art and work, and I needed some time without his cranky butt. I planned to work all day, and at breakfast, Marie-Paule asked if I'd like to set myself up in the dining room. Oh, rapture. Oh yes, I would. It is a lovely, fresh terra cotta room with blue accents, a handsome fireplace, and huge windows looking out onto the garden.



I know I haven't mentioned that we have a third traveling companion. (She wanted to be incognito.) Frida Kahlo joined our merry entourage in Paris, or at least a poster of one of her paintings from the exhibition at the Musée Maillol. I'd bought her (though she wouldn't like me to use that term) on our trip in 1998, and she hung in my happy office on Hill Road. When I was packing up to leave, Frida told me quite bluntly that she'd like to come along. She hadn't been anywhere in forever and needed to see the world with fresh eyes herself. How could I deny her this pleasure? There was no room to transport her on the jet, so I acquired her clone in Paris, just as I had before. Jim shopped for her wardrobe and found her a beautiful, red frame at the Get Everything BHV, so she would be suitably dressed for our journey to chase Matisse. She, of course, loved her new costume, and I have to agree, it looks smashing on her. Frida is perfectly attired wherever she goes. The red frame is her little black dress.

Before Jim left for his field trip, the three of us went out to enjoy the garden. I could see the maid, watching out the window as Jim photographed us two girls. (Frida was glad Jim was leaving too, though she wouldn't tell him. But he hadn't been as bad-tempered with her as he had with me.) As I worked downstairs, Frida rested in the room. We all had good days-Jim sketching and me writing, Frida contemplating how Diego would behave when he found out where she'd slipped off to. We all decided we couldn't rush through France exhausted and beaten. We have to remember why we're here.

The next morning we left for Paris and the business Jim needed to finish. Back the same way we'd come to the mad Place de la Concorde. Jim's quest was at the American Embassy, mine was the W.H. Smith book store. Rather than drive ourselves crazy with one-way streets and parking, we pulled into the driveway of the swanky Hotel Crillion, said we had business and went in-another fine time to wear MMC. I feel confident in well-heeled luxury, so this was a breeze. (I think I was a Queen in a previous life.) Next time we'll pop in for a drink. We were in and out of Paris in two hours. Missions accomplished with success!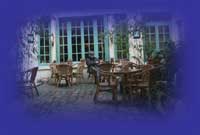 It was on to Rouen, where we checked into La Vieux Carré, a small, funky hotel in the centre ville, that was hard to find on the narrow, cobblestone streets-but worth it when we did. You walk into an almost hidden courtyard and then a cozy lobby/salon de thé with comfortable chairs, good American jazz, people drinking and conversing. We unloaded what we needed of the luggage (thank God our room was for a handicapped person on the first floor-we're handicapped-with Too Much Stuff). I snagged us a good table, while Jim parked the car. The scene reminded him of the Algonquin. We loved it-the feeling, the decor, the smells coming from the kitchen. Our room was simple though imaginatively painted with a swag of red and gold.

We had incredibly wonderful news from Alice. Her friends are loaning us their house in Auray for a month, where Jim will begin writing the book! This is such a generous gift that means so much, and we're eternally grateful. It's moments like these that more than make up for the times when we're worried and afraid about this leap into thin air that we've taken, the weightlessness of space without a net or home. Out in the world that we're discovering, the human spirit thrives, looking for the light as we are. People find each other, connect, and give.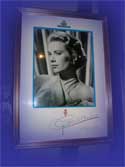 We took a turn around the old city and decided we had to have dinner at La Couronne, which makes the claim of having been open since, get this, 1345. Joan of Arc was burned at the stake a century later not far from the restaurant's door in the Place du Vieux Marché. In my opinion, the church of Ste-Jeanne-d'Arc that lies in between the two is an unfortunate monument for the heroic woman who gave her life for God and France. Maybe it's just me, but with all the glorious architecture in France, why would you put an ugly, scaly creature for the Patron Saint's memorial? (Whoever was in charge may not be sorry, Joan, but I am. This is what happens to women. Believe me, I've been to Les Invalides and Napolean's tomb. He didn't get a pitiful shrine like this. He got marble and lots of it.)

I tried one of La Couronne's specialities for a first course-trotters-which I thought might be an unmentionable part of the pig that I've never tasted, but instead (I think) the meat came from its hoof. Whatever it was was encased in pastry and absolutely divine. Jim ordered boudin noir, which if you don't know, is blood sausage. I've personally never been fond of congealed blood wrapped in some animal's intestine, but each to his own. Duck and its foie gras were my next course, while Jim had pork loin. Then there were the cheeses and desserts. It's that kind of place. The decor is how you want an old, historic place like this to look with rich wood paneling, fireplace, and walls covered with signed photos of movie stars like Grace Kelley, Sophia Loren, and John Wayne. I found a dashing photo of my friend Joanna Knatchbull's grandfather, Lord Mountbatten, in uniform handsomely displayed.

After dinner, we strolled through the streets of Norman half-timbered houses, by the cathedral, which is still being renovated from the devastation of World War II. It's apparent that Rouen was hit hard by the war if you think about what you see-newer buildings, new squares in the middle of old streets and houses-the evidence of destruction and rebuilding. In 1998, we stopped and had dinner in St. Lo. Nothing was left of the old city there-except a doorway or wall of some sort-that was it. The manager of La Vieux Carré told us that the Gestapo had taken over our hotel, and the French Resistance set a bomb off in front of it.

Again, the tapestry of history surrounds us, the confluence of old and new joining together to make a new whole. Three German men sat at the table next to us at dinner. The scene would've been much different had it been 50 years before.



posted by Beth on January 29, 2003 | View All Diary Entries
---

View All Diary Entries Here